Leading a business in a pandemic
Steven Underwood, CEO of Peel L&P and The Peel Group, reflects on an unprecedented year.
"I was incredibly humbled by the commitment shown to Peel L&P by our people over the past year. They have been nothing short of magnificent."
"2020 was an unprecedented year. A year like no other. Everybody made sacrifices to secure the future of our business – whether that was by working more flexibly to deal with competing demands of family and work whilst at home, through to salary reductions in the early months of the pandemic."
"There was a real sense of solidarity across the business and an acknowledgment that the challenging times we were facing brought with them a different set of pressures, whether that be balancing work commitments with the demands of family life or dealing with feelings of isolation from homeworking, all set against a frightening and uncertain backdrop. I was confident that if we worked together, in a supportive and empathetic way, the business and our people would come through."
"By May, still in lockdown, we were already planning for a postpandemic world. The leadership team took a step back and analysed each area of the business, identifying changes that needed to be made, as well as focussing on opportunities for the future. By September, we were well advanced with a new five-year plan for the business, with clear objectives and clarity on how to deliver."

"Reflecting on that time, I was increasingly confident that as a business, we would emerge stronger from the pandemic, having placed equal emphasis on supporting our people, our customers and our partners all whilst delivering our revised financial goals. As we ended the financial year, I was cautiously optimistic."
"We now have a clear vision for the future, with some
transformational projects in the pipeline, working with some of the best partners in the industry. For me, a few standout projects include the fantastic progress with Urban Splash to deliver much-needed homes at Wirral Waters. Our partnership with the Embassy charity and Capital & Centric in Castlefield, Manchester will help tackle homelessness and deliver wraparound care with a housing-led community of up to 40 modular homes. Our plans progressed for the Hulton Park estate in Bolton and the work of our Natural Resources and Energy business, Peel NRE, saw significant developments in the low carbon and circular economy sectors."

"Whilst our people embraced new ways of working, plans for new workspaces at TraffordCity and MediaCity were rolled out to give our people the best spaces to come together and collaborate, as well as more initiatives to support their physical and mental wellbeing."

"The resilience and adaptability of our people has surpassed all of my expectations. I also take great confidence from the diversity of our portfolio. There will be many more challenges to face in the coming year, as we work with our partners to unlock and deliver the opportunities across our business."
Steven Underwood
CEO, The Peel Group and Peel L&P
September 2021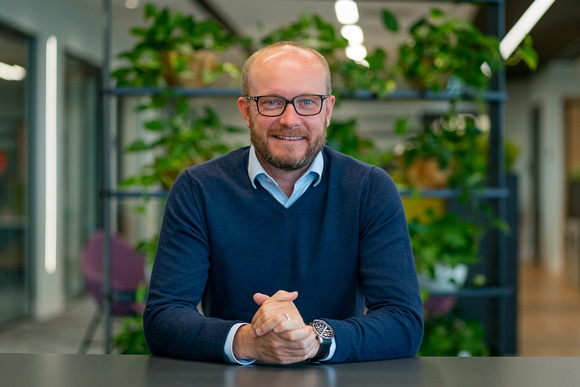 "The resilience and
adaptability of our
people has surpassed
all of my expectations"