Operational review by James Whittaker
Executive Director of Development

Significant activity across all Peel L&P waterfront destinations continued during 2020. We facilitated the construction of over 884 new homes alongside the creation of public realm and open space; investment into these schemes amounts to over £179 million, and has supported and created thousands of local jobs.
Our team started on-site at Wirral Waters, constructing 'Hythe', the first Grade A sustainable office building. Also at Wirral Waters, our joint venture with Urban Splash continued to progress, building the first phase of modular housing and we completed construction at Calder Park in Wakefield of a new office complex for Highways England.
At Liverpool Waters, the Secretary of State approved plans for a new Everton FC stadium at Bramley-Moore Dock, which provides an opportunity to regenerate the northern part of Liverpool city centre. This will include public realm projects to open up the historic waterfront in areas not currently accessible to the public.
Also at Liverpool Waters, construction work continued on the new Isle of Man ferry terminal which will complete in 2021, providing further infrastructure improvements to the city.
In TraffordCity, Manchester, a detailed planning application for a Wavegarden surfing facility was submitted, whilst the construction of a Therme Health and Wellbeing Spa resort was deferred to 2022.
At Manchester Waters, X1 Developments completed their second residential tower, close to Pomona Island Metrolink station. Construction of a third tower is due to start in September 2022. Glenbrook also completed their build-to-rent development at Cornbrook, and a reserved matters planning application was submitted for a hotel and serviced apartments development in July 2021.
At Chatham Waters in Kent, X1 completed their 199-apartment scheme, and our build-to-rent development for Long Harbour progressed to a subsequent completion in July 2021. Detailed planning applications were progressed and have since been submitted for an affordable housing scheme, in partnership with Legal & General Affordable Housing and Montpelier for an elderly living care facility providing a range of tenures.

At Glasgow Waters, we have submitted a masterplan for approval that will see 1,100 homes, plus a hotel and leisure facilities realised for this prominent riverside location. Final phases of our residential development at Beith Street in Glasgow are expected on-site in 2022 for 420 homes for the rental market and 48 homes for sale. In Renfrew, long-term proposals to redevelop an industrial area into riverside living continues to progress, with a detailed planning application for the first phase expected to be lodged in late 2021. Whilst in Greenock, James Watt Dock Marina continues to flourish and major infrastructure works to open the remainder of the site are planned for late 2021. In Ardrossan, we sold our interest in the North Shore site to allow North Ayrshire Council to advance proposals for a major school relocation and community hub.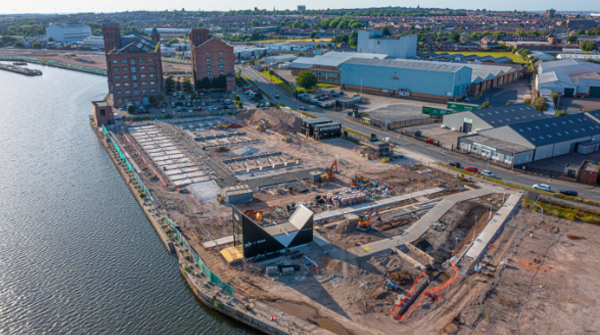 "Investment into Peel L&P
waterfront destinations
amounts to over £179
million, and has
supported and created
thousands of local jobs."