Operational review by Stephen Wild
Executive Director of Strategic
Investment & Growth and
Managing Director of MediaCity

Throughout 2020 we continued to work closely with all our customers to deliver a Covid-secure environment at MediaCity, our 200 acre mixed-use development on the banks of the Manchester Ship Canal in Salford and Trafford, Greater Manchester.

Placemaking and site activation initiatives such as the Box on the Docks private dining greenhouses have been well received and remain popular. These spaces host art installations, created and curated by local artists, to drive covid-safe footfall and support the trading of our on-site food and beverage operators.

Meanwhile, progress continued on the ITV I'm a Celebrity Get Me Out Of Here attraction, which opened in July 2021. Our partnership with Salford Foodbank has helped it to open a new warehouse base at MediaCity, and their Food Gift Box programme has received over 4,000 kg in food donations.

As we move though 2021 there are increasing numbers
of people returning to our workspaces, and significant interest from new customers.

Our leading retail centre and leisure destination in the heart of Gloucester, 'Gloucester Quays' has experienced a positive return to trading during 2020 when lockdowns periodically eased. As we return to full opening we have seen significant increases in footfall and sales.

GatewayEast is our newly-branded emerging strategic destination in Doncaster on 11 million sq. ft of land surrounding Doncaster Sheffield Airport. A major milestone for this scheme was reached in 2020, when we secured 3.5 million sq. ft of consented space for advanced manufacturing and logistics use. This is receiving vigorous market interest as a location for innovation in clean technologies.
Peel L&P is progressing significant proposals for an innovation district in Bolton, a scheme which will complement existing Peel Group landholdings in the area.

The Arrive concept is our response to the evolving needs of customers across our commercial workspace offering. Arrive spaces and services are now established at MediaCity, and we have plans to roll the concept out both across the Peel L&P portfolio and through third party partnerships.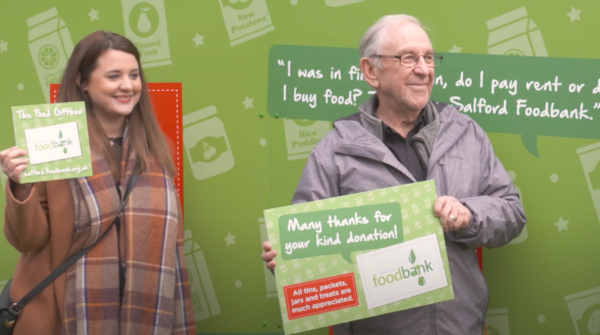 "Our partnership with
Salford Foodbank has
helped them to open
a new warehouse base
at MediaCity"