The lane is popular with walkers however there is no formal footpath along the unadopted section of the lane.  The proposals include for a deisgnated pedestiran footpath along the lane which will start near the recently built Egerton Grange development close to Stirrup Field Ecology Area.
Connections from the existing residential area onto Vicars Hall Lane are proposed. These connections will enable convenient connections for the local residents onto the green infastructure routes in the area.
The works are to include:
New footway for pedestrians
Vegatation management
New footpath links through from the Bellway development off Highclove Lane
These works are scheduled for Spring 2019.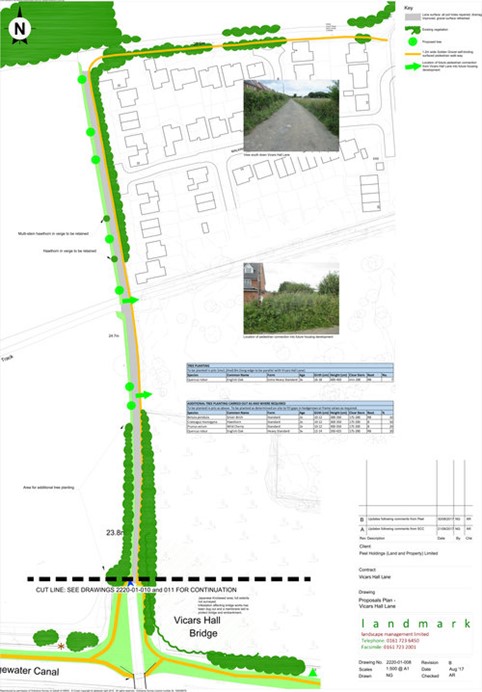 Vicars Hall Lane Corridor Landscape Proposal
View plan in PDF format
Implementation of the Recreational Works
The works will be completed in phases over the next two years. The phasing is to ensure the works are undertaken outside important seasons for ecology and habitats. 
While the works are on-going areas may need to be closed off from the public for safety reasons. Notices will the erected around the areas of work to notify of any closures and when the areas will be reopened.
Stirrup Field Ecological Area
As well as the recreational works a new ecological area has recently been completed by Landmark on behalf of Peel. The ecology area includes the creation of marshy grasslands habitat, two seasonal ponds, habitat piles, bat roosting and bird nesting opportunities. The area has been created to mitigate for the loss of marshy grassland and ponds on the housing development site. The translocation of the marshy grassland and orchids from the development site was undertaken in the summer of 2017.
This ecology area has an annual maintenance and monitoring programme to ensure the habitats establish on the site over the next 5 to 10 years.
The ecological area is identified on the Recreational Improvements Overview Plan. The ecology area can be seen from Vicars Hall Lane. To ensure the habitats in the ecology area develops and thrive public access is not permitted into the ecology area. 
Contact Information
If you need to get in touch about any of the works being undertaken you can:
Contact the offices of Landmark Landscape Management Limited on 0161 723 6450
Alternatively, you can contact Peel by email: land@peelandp.co.uk or call 0161 629 8200