12 Aug 2021
192 homes for private rent complete at Chatham Waters
Chatham Waters' second residential building overlooking the River Medway has complete, taking the total number of new homes at Peel L&P's waterfront development to almost 400.
Partners have celebrated the completion of The Kell, a joint venture between Peel L&P and real estate investment manager, developer and operator Long Harbour, offering a total 192 one, two and three-bed apartments.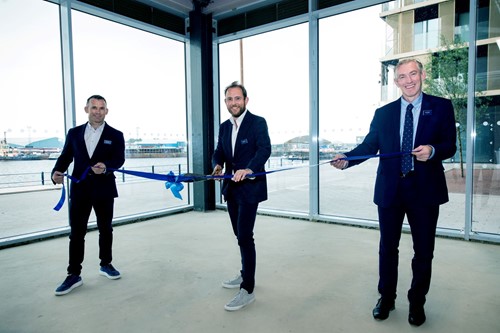 The building is located next door to X1 Development's 199-home The Manica building which welcomed residents in December last year.
The Kell, which received planning permission in October 2018, features ground floor retail space, rooftop gardens, a waterfront boulevard and alfresco dining areas. The development will be managed by Way of Life.
Just 36 minutes from London St Pancras by train, Chatham Waters offers residential, commercial, retail, leisure and education space. The 26-acre destination is already home to a University Technical College, Marston's family restaurant, Asda Superstore and extensive public realm.
Following the completion of The Kell, circa 400 of the 950 homes which have planning approval at Chatham Waters are now finished and just last week Peel L&P announced contract exchanges with Legal & General Affordable Homes and specialist healthcare provide Montpelier Estates to bring another 300+ homes, subject to planning consent to Chatham Waters, including affordable housing and homes for people with care needs.
Over £100m has already been invested at Chatham Waters and around 700 full time jobs created, worth £19m to the local economy each year.
James Whittaker, Peel L&P's Executive Director of Development said: "Chatham Waters is a great place for us to build new communities and create a world-class waterfront where people want to live, work and invest and we're pleased to celebrate the completion of more new homes on this brownfield site which are ideal for young professionals or downsizers.
"We're now well on the way to creating the 950 homes that we've received planning for at Chatham Waters and we're continuing to work with partners to provide a mix of housing from private rent and sale to affordable homes and schemes for people with care needs."
James Aumonier, Chief Operating Officer at Long Harbour said: "We are very pleased to be a step closer to launching this exciting new development. Way of Life, who will manage the building, will create a truly unique experience for residents, who will benefit from an excellent location and quality amenities in a vibrant new waterside community."
The Kell has been built by Russell WBHO.
Andrew Russell, Joint Managing Director of Russell WBHO, added: "We're delighted to mark the completion of the project and play our part in this exciting regeneration programme. I want to thank the Russell WBHO team, our sub-contractors, suppliers and partners who have done a fantastic job despite all of the challenges of the last year."
Photos: The Kell at Chatham Waters and partners celebrating the topping out. L-R Andy Russell, Russell's WBHO; James Aumonier, Long Harbour; James Whittaker, Peel L&P. Photo credits Teri Pengilley.