08 Nov 2022
A fun-fuelled NERF indoor entertainment centre comes to TraffordCity
Manchester-based leisure group Rocafella Leisure have successfully secured the rights with global branded entertainment company HASBRO to bring the NERF Action Xperience to the UK.
The inaugural family entertainment centre will open in Trafford Palazzo in Summer 2023, marking the start of a UK-wide rollout of NERF Action Xperience (NAX) venues over the next five years.
Each NAX centre provides guests with a multitude of NERF fuelled indoor activities to explore, exhilarate and excite. It consists of three different zones to activate those ultimate NERF adventures in a purpose-built and immersive environment. The competition zone allows groups to battle it out with different NERF blasters in three immersive themed arenas. The sports zone features a huge atrium of NERF-related sports challenges including basketball and football volley. Finally, there is a dedicated training zone to hone players targeting skills, truly providing something for everyone.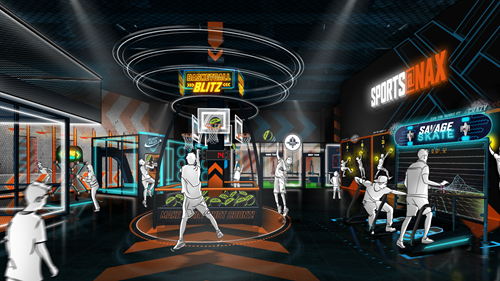 Matt Proulx, VP Location Based Entertainment at Hasbro, Inc. said: "The NERF Action Xperience in Manchester is an immersive, action-packed activity for families and NERF fans of all ages. Hasbro is continually introducing innovative experiences for consumers – and we're excited to partner with Rocafella Leisure to bring the NAX experience to fans throughout the UK." 
Working in partnership with Peel L&P, owner of the newly rebranded Trafford Palazzo, work has already begun transforming a prominent 35,000 sq ft unit into the UK's first dedicated NAX centre.    
Mark Whittaker, Executive Director Property Investment & Management for Peel L&P said: "We are really excited to welcome Nerf Action Experience to Trafford Palazzo and cannot wait to see the doors open. The brand aligns perfectly with all existing operators and will I'm sure be extremely popular with visitors, old and new.
"Over the past year, we have focused on developing an activations and events strategy within our mall space which has attracted significant interest and demonstrates the power of creating experiences for customers within a shopping environment. We are excited to develop our strategy and offering further experiences to bring some spectacular collaborations to Trafford Palazzo."
Partnering NAX in providing guests with timely refreshments will be the successful local F&B proprietor Archie's, providing visitors with their renowned burgers, shakes and waffles while delivering children's parties for NAX all from a prominent position in Trafford Plazzo that will attract passing footfall to boost their own sales.
Amer Rafiq, co-founder of Archie's said: "We are really excited to be partnering NAX at the UK's first dedicated NERF park here at Trafford Palazzo.
"Guests attending the attraction will be able to access our american-inspired menu as they watch their friends and family play NERF, or to refuel after an energetic and fun session at NAX. 
"Working together with NAX we have taken our iconic pink restaurants and fused it with the family fun-fuelled values of NERF to create a unique dining experience, particularly for parties and celebrations.
"We can't wait for next summer to open our doors and bring you Archie's and Nerf under one roof exclusive at NAX - and guess what it's here in Manchester first!"
Once up and running, the NAX family entertainment centre will create over 45 new jobs within the local leisure and hospitality sector, with opportunities for people to kick-start their career in the industry at one of the North West's iconic destinations for major attractions and leisure experiences.
Chris Hayes, Chief Executive of Rocafella Leisure Group said: "It has been a huge and momentous effort by all my team to finally turn this exciting project into reality.
"We want NERF Action Experience to become a brand leader in the world of family entertainment and leisure attractions. Offering something different for the people of Manchester, and beyond, to visit during the week, weekends and in the holidays.
"We are delighted to be working with such a forward thinking landlord who has been instrumental in sharing our vision in bringing this to the North West's capital.
"Our intention is to become a beacon of innovation, dynamic customer service and an all round provider of fun-fuelled activities for all ages that inspire the youth of today to stay active.
"This first opening will mark the start of multiple NAX venues popping up across the country and overseas over the next five to ten years. Not only are we creating a place for families, and adults, to experience NERF beyond their own homes, we will transport them to an immersive space where they can play with the freedom to challenge, compete, and take home bragging rights - if they wish!
For those eagerly anticipating the opening can find the latest updates on the website (www.nerfax.co.uk) and official NAX social media channels.
To find out more about Trafford Palazzo, visit Retail and Leisure - Trafford Palazzo (peellandp.co.uk)
Find out more about the wider TraffordCity vision: Retail and Leisure - TraffordCity (peellandp.co.uk)
Follow TraffordCity on socials! @TraffordCity
Follow Trafford Palazzo on socials! @TraffordPalazzo