03 May 2023
ARRIVE opens for business at Liverpool Waters
Peel L&P's flexible workspace concept, ARRIVE, has landed at Princes Dock, Liverpool Waters.
The circa £500,000 transformation of the ground floor of No. 10 Princes Dock in to a flexible, managed workspace for start-ups and small to medium enterprises opened to the public yesterday (26 April).
ARRIVE's expansion into Liverpool follows on from its success at Salford's MediaCity where Peel L&P invested £3.3million refurbishing MediaCity's Blue and Tomorrow buildings into its first ARRIVE workspace which opened in 2018.
ARRIVE No.10 Princes Dock provides over 60 desks, as well as a boardroom, meeting rooms, a kitchen breakout area, and focus rooms where occupiers can take a suite from four desks up to 12. Occupiers have the added flexibility of using meeting rooms in both MediaCity and No.10 Princes Dock.
Businesses taking advantage of ARRIVE at Liverpool Waters will also benefit from the thriving community emerging at Princes Dock, with nearby Moose Coffee and the recently revamped Malmaison Bar & Grill offering open-plan dining with views across the busy Liverpool waterfront.
OBI was appointed by Peel L&P to deliver ARRIVE's expansion into Liverpool Waters, following the success of its extensive refurbishment programme at ARRIVE MediaCity.
Rebekah Lloyd-Beere, Head of ARRIVE Managed Workspace commented:
"It was fantastic to see so many people keen to come along today to explore ARRIVE at Liverpool Waters and see what's on offer for them at Princes Dock.
"ARRIVE has been a huge success at MediaCity and the demand for flexible workspace, where companies can quickly scale up and down, has never been greater so we're delighted to bring ARRIVE to the heart of this thriving waterfront destination at Liverpool Waters."
Liza Marco, Senior Asset Manager at Peel L&P's Liverpool Waters said:
"ARRIVE adds a great new dimension to the offer here at Princes Dock. We now have Grade A offices, all verified net zero, available for everyone from start up micro businesses looking for a handful of desks and flexible meeting spaces, to established corporates with hundreds of staff. Already we have had interest in ARRIVE from new businesses looking to become part of the Liverpool Waters community, with several suites already under offer."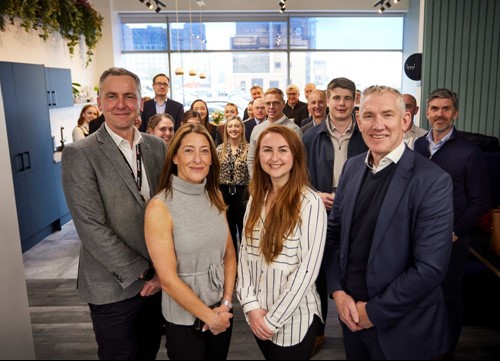 Pictured (l-r): Chris Capes, Development Director for Liverpool Waters; Liza Marco, Senior Asset Manager at Liverpool Waters; Rebekah Lloyd-Beere, Head of ARRIVE Managed Workspace; and James Whittaker, Peel L&P's Executive Director of Development.