23 Apr 2021
Bee Café Garden and Butterfly Bistro come to life at Glasgow Waters
Peel L&P has teamed up with Centurion Way & Yorkhill Park Community Group and landscape contractors DS McG Ltd to bring a Bee Café, Butterfly Bistro and Ladybird Larder to Yorkhill Quay at Glasgow Waters, formerly known as Glasgow Harbour.
The three large planters filled with pollinator plants and bee hotels are situated to the right of the riverside in a south-facing spot in front of the railway tracks. Local children planted the garden with colourful nectar-rich plants and with an illustration of the bumblebees most likely to dine. The local community group will maintain and monitor the project in the future months.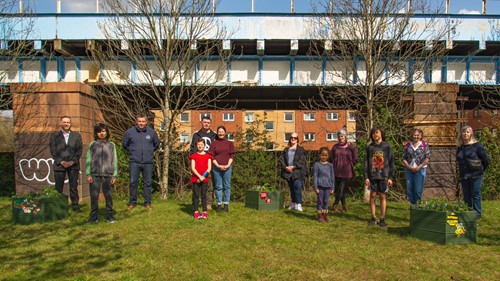 Brian Lavalette, Director of Development for Scotland at Peel L&P said: "We're proud to be working in partnership with Centurion Way & Yorkhill Park Community Group and DS McG Ltd to create a beautiful garden to be enjoyed by the community and also support local biodiversity and improve habitat connectivity. We have also arranged to reduce grass cutting on the site to complement the garden and allow for more wildflower growth to benefit local wildlife and the council will supply and plant additional wildflowers in the area."
Centurion Way & Yorkhill Park Community Group are a small group living close to Yorkhill Park that came together during the 2020 lockdown.
Mary Redmond, volunteer at Centurion Way & Yorkhill Park Community Group said: "We all have a shared a passion for nature within our group and we wanted to improve the local area for wildlife and the local community, so thanks to Peel L&P and DS McG Ltd, we have created the Bee Garden. The creation of the garden was greatly enjoyed by both us and the bees and the children feel very proud of their project."
Peel L&P's vision at Glasgow Waters is to create a sustainable environment for local people to enjoy. The destination, set to become a major retail, leisure and tourism destination on the Clyde, will complement, support and revive the surrounding area. The masterplan involves a substantial investment in infrastructure, the creation of hundreds of waterfront homes, retail and leisure opportunities, as well as a commercial district.
David McGuffie, owner of DS McG Ltd said: "As a company, we're committed to sustainable practices and projects, so we are delighted to have helped bring together the Bee Café Garden and Butterfly Bistro at Yorkhill Quay."
Plans for 1,100 homes, a 200-bedroom hotel plus a 2,500 sqm for a mix of leisure venues at Yorkhill Quay are currently going through the Glasgow City Council planning process. The residential-led mix of uses will help repopulate and reactivate the waterfront, creating a vibrant and diverse destination which complements and connects with surrounding uses at the Riverside Museum, Clydeside Distillery and nearby SWG3.
Photos: Community volunteer Mary Redmond and her seven-year-old daughter Juno. 
Group photo with Peel L&P, partners and residents.