15 Feb 2023
Blog: Newcastle Geography student joins Peel L&P's Sustainability team for valuable work placement
It's always a pleasure welcoming students of all ages and backgrounds to Peel L&P for work experience, and over the years we've met lots of young people from across the UK who have had the opportunity to work with different teams all over the business.
In January 2023, we welcomed Eloise McDermott, a Geography student from Newcastle University to the Sustainability team for a one-week work placement. We caught up with her at the end of her week as she reflected on her experience.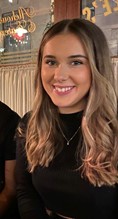 Sustainability is a key feature of my Geography degree at Newcastle University and is becoming a more talked about term within businesses, drawing me towards an interest in a career that involves sustainability. The placement at Peel L&P has been a brilliant introduction to the sector and especially into the variety of roles involved.
During my placement I took part in multiple activities from exploring the companies Scope 3 carbon emissions, attending a workshop for tenants and meeting with multiple people across the company to discuss their roles.
The project on Scope 3 emissions involved looking into Peel L&P's indirect carbon emissions which occur as a result of their activities. This required me to look at multiple datasets and use a spreadsheet-based model to measure these emissions. Through this project work I gained a thorough understanding of what Scope 3 emissions are, why we need to reduce them and helped to identify the actions Peel L&P can take to reduce these emissions, whilst also gaining confidence when working on spreadsheets.
The sustainability platform workshop, for tenants at MediaCity, was a brilliant insight into sustainability resources businesses would like to have access to. It was positive to see Peel L&P's willingness to go above and beyond to provide this information for tenants. Meeting Peel L&P's Natural Resources and Energy (NRE) team gave me an overview into how sustainability is intertwined with the work they do on renewable energy and innovation and how useful GIS (Geographic Information Systems) is for them.
Overall, the week's placement has put me in a good stead for the remainder of my Geography degree and future career through the information and skills I have obtained. I hope to incorporate terms and theories I have learnt from my discussions into my university work such as, 'circular economy' and 'scope 1, 2 & 3.' I now have a more in-depth understanding of sustainability and the wide career options it involves!
To find out more about sustainability at Peel L&P, visit https://peellandp.co.uk/about-us/sustainability/