15 Nov 2022
Bumper Christmas announced for Trafford Palazzo
Festive period themed 'Christmas at TP Street'
Trafford Palazzo has confirmed a jam-packed Christmas Events bonanza set to bring festive fun to TraffordCity's retail and leisure destinations throughout November and December.
Taking inspiration from the iconic festive favorite, 'Miracle on 34th Street', 'Christmas at TP Street', will bring Christmas to life for everyone and will be launched from Saturday 26th November and run for four weeks.
Visitors and shoppers will enjoy free event activity with live music, children's entertainment, Christmas crafts including 'Letters to Santa' workshops, visits from 'The Cheeky Elves' and popular sweet treat and drink vendors.
Central to the cheer and playing host to the festivities will be an Alpine themed cozy Tipi, reminiscent of a beautiful ski lodge, boasting furry furniture, tables for families, heaters and a stage for live musical performances.
A bespoke four-week programme has been created that includes something for all ages.
Back for a second year are the Cheeky Elves Behaving Badly, this year the Elves will be joined by weekly roving entertainers such as Christmas Presents on roller skates, Candy Cane Stilt walkers and Reindeer characters.
Kate Crafts will return to Trafford Palazzo with Christmas crafts including Letters to Santa, make your own Christmas decorations, decorate your own Christmas cookie and make your own Christmas card.
Christmas stalls will feature a variety of independent traders selling traditional Christmas items providing guests with the perfect opportunity to purchase some unique stocking fillers.
A selection of sweet treats will also be available to purchase including hot chocolate, and sweets as well as mulled wine and boozy hot chocolates for adults.
The weekly live music entertainment schedule will also continue throughout the festive period with a selection of choirs singing hymns and all the Christmas classics being added to the mix.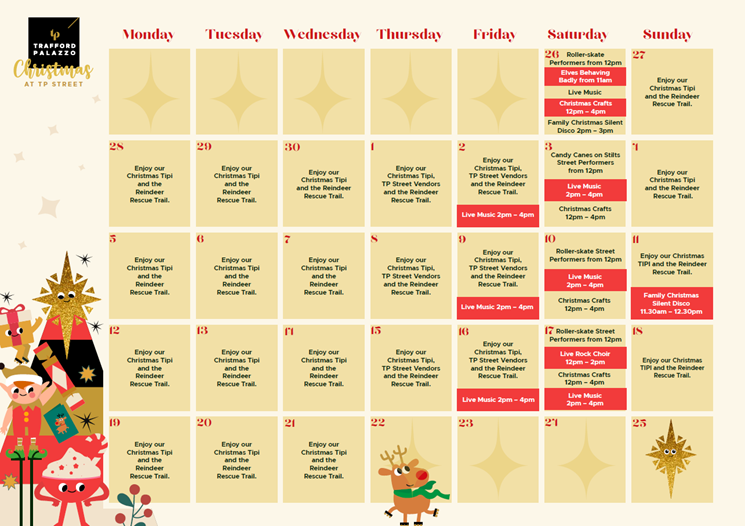 Kate Holland, Senior Marketing Business Partner at Peel L&P said: "Since acquiring Trafford Palazzo we have had some incredible feedback on our free events that we offer throughout the year. Our aim is to make the retail space a 'destination' for visitors with an exciting, themed event schedule that all families can enjoy.
"Christmas is a time of year for families, and we are looking forward to seeing everyone celebrating at Trafford Palazzo Street over the next few weeks."
Trafford Palazzo which is based at TraffordCity was relaunched under its new name in November 2021 and welcomes over five million visitors a year. The multi-faceted shopping and leisure destination is home to LEGOLAND® Discovery Centre, SEA LIFE, Italian restaurant Matterello and Primark.
King Pins and Nerf AX and Archies are all scheduled to open in 2023.
The full schedule can be found on Trafford Palazzo website.
To learn more about Trafford Palazzo, visit