10 Nov 2022
Care home plans launched for Trafford Waters
Plans for a new facility to support older people and those living with dementia have been unveiled today with the launch of a public consultation.
Specialist healthcare provider Montpelier Estates is asking for local people's views on proposals for an 82-bed, three storey care home at Peel L&P's Trafford Waters development within TraffordCity, near to the Manchester Ship Canal and The Trafford Centre.
The scheme will provide specialist dementia care for residents as well as providing a range of facilities including a bistro café, hair salon, cinema, rooftop garden and space for community events, relaxation and exercise. Several parts of the facility will also be open to the wider public.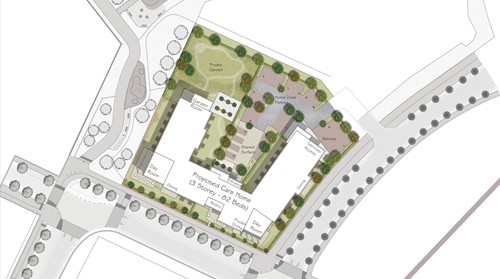 Montpelier's plans comprise part of the first phase of development at the Trafford Waters site. The scheme follows on from outline planning permission where   Peel L&P's aims to build 3,000 new homes to suit a range of needs, a new 20-acre park, primary school, hotels and offices over the next 20 years – a project that will create over 5,000 jobs.
Last month, Peel L&P marked the start of work at Trafford Waters with infrastructure works that will enable the first 350 homes to be built. This was followed by news of Trafford Housing Trust's plans to bring forward 83 affordable homes at a site just opposite the proposed Montpelier scheme.
Anna Ciesielska, Director of Montpelier Estates said: "We are extremely pleased to be a part of Peel L&P's vision for a new community. The site is ideal for providing round-the-clock care to people at a time when they need it the most in their lives whilst still being a part of the active neighbourhood. 
"Our designs for this development will create a feeling of home, not only in the internal designs of bedrooms and communal areas, but also in the scale of the building and its overall appearance.
"We will be opening up the communal day space to the community and local groups whether it is amateur dramatics for rehearsals, music recitals or organisers of quizzes or book clubs because we want to become part of Trafford's community."
James Whittaker, Peel L&P's Executive Director of Development added: "Montpelier's development will provide local people with much-needed homes that offer additional support and their plans are part of our vision to create more housing choices for Trafford complemented by green space and mixed-use community.
"We're already on site at Trafford Waters with new roads, walkways, cycle routes and large areas of public realm and we're looking forward to other parts of the site coming forward at pace."
The public consultation will run until 24 November 2022. For more information and to have your say click here.