01 Aug 2022
Embassy Village homelessness project in Manchester made possible thanks to £3.5m donation
A homelessness project that first took inspiration from Peel L&P on derelict land owned by the regeneration business has secured an amazing donation to help make it all possible.
The Moulding Foundation has agreed to donate £3.5 million to support the construction of the Embassy Village in Manchester – a pioneering new safe and secure community for the city's homeless and vulnerable men.
The project will provide 40 new purpose-built homes and transforms a derelict site below the railway arches between the Bridgewater Canal and River Irwell, into a housing-led community with a village hall, lots of green space, mini allotments to grow vegetables and a multi-use sports area.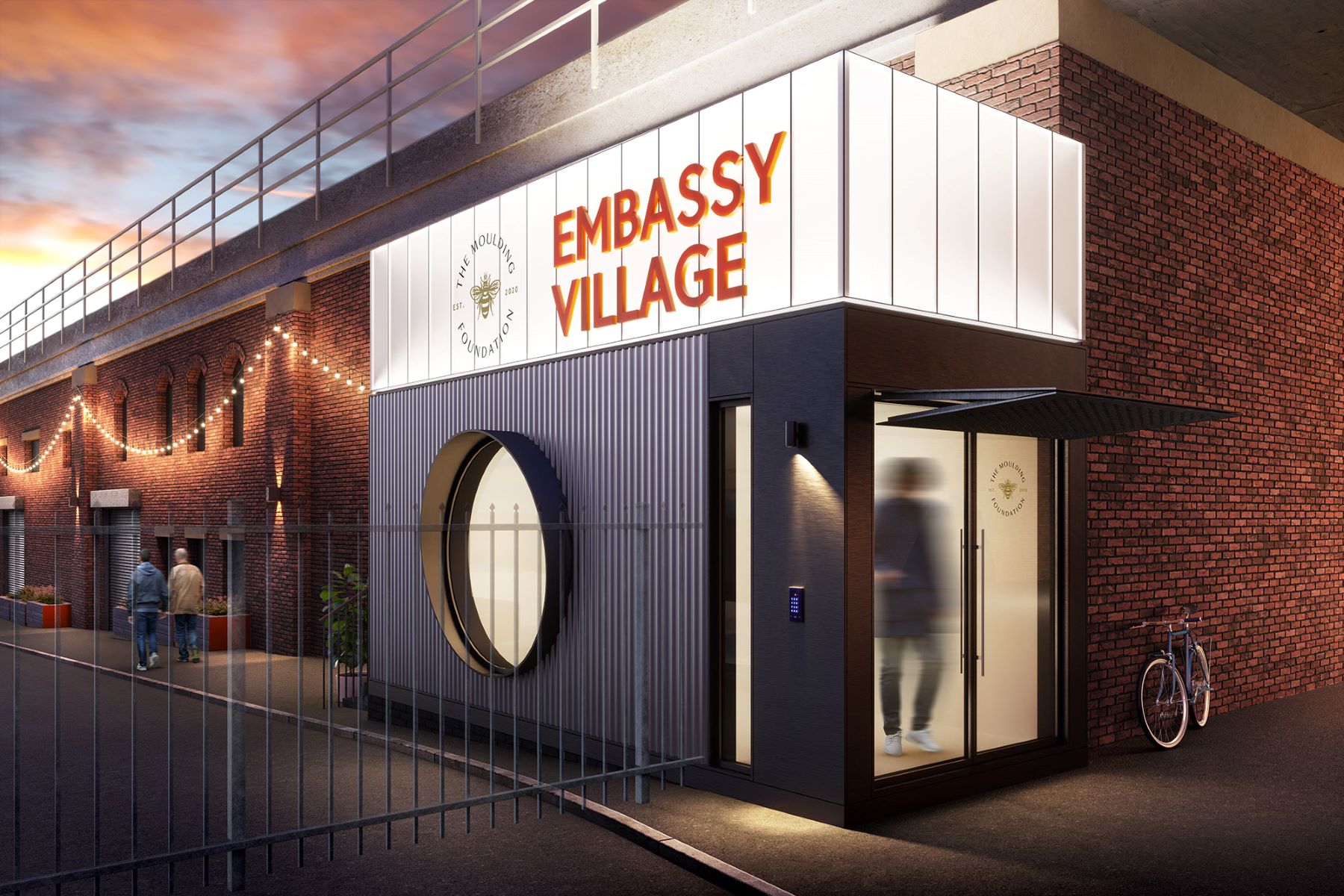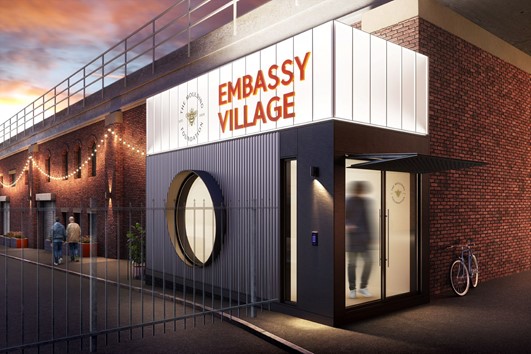 The Embassy Village will help Manchester's most vulnerable men get off the street and reintegrate back into society by putting high-quality housing and wrap around support at the heart of the solution.  The village hall will become a community hub with residents receiving one-to-one training and mentoring to help equip them with a range of life skills, including shopping, budgeting and cooking; as well as support to help get them into full-time employment. 
Landowner Peel L&P has provided the space underneath the railway arches and has worked with Manchester-based charity Embassy, CAPITAL&CENTRIC and a pro bono team across the city's business community to develop the village and secure planning approval from Manchester City Council in July last year.
Jodie Moulding, Founder and Trustee Chair of the Moulding Foundation said: "We are hugely proud to be supporting Embassy Village with this incredible project, helping to reduce homelessness in Greater Manchester.
"The village will be transformational; in addition to safe housing, it will give residents the life skills, community support and access to the resources needed to lead thriving and healthy lives."
Sid Williams of Embassy said: "To receive this extremely generous donation from The Moulding Foundation is just incredible and puts us in a position to get the village built sooner than we had expected.
"The latest government figures show that Manchester has the second highest number of people sleeping rough in England. This project is critical in helping us transform the way homelessness is tackled in our city, providing a long-term and sustainable solution. We're creating a supportive community where we help our residents into work and get used to managing a home, and this means we'll be able to help four times as many people as we currently do. However, this means our running costs will double so we still need the ongoing support of the amazing Manchester community."
James Whittaker, Peel L&P's Executive Director for Development added: "We're very thankful to The Moulding Foundation for their incredibly kind donation to help get Embassy Village off the ground to support homelessness in Manchester and are pleased to be able to bring a mix of our land holdings and experience to help create a project that offers a more permanent solution to homelessness.
"We're very appreciative of all the partners who've helped to make this project possible and we can't wait to see the project get underway later in the year."
The donation from the Moulding Foundation will fund the construction of the project, which will start later this year and is expected to complete in 2023.
The Embassy charity launched in 2019 with a re-purposed luxury tour bus to provide shelter and support to vulnerable adults which was forced to close by covid social distancing.
Since the pandemic began, Embassy has operated as a housing provider rather than a shelter. It's common for men to spend 5 or more years in shelters before being housed in social housing and the village will allow Embassy to house people from the first day of their stay and end their homelessness.
The self-contained site will be staffed by Embassy's dedicated team and aims to help residents move on to private sector rental, with full time employment and vastly improved confidence and life skills, helping to ease the burden on social housing.
If you are a company or individual that's interested in supporting the village contact sid.williams@embassybus.org. You can also donate to the charity via the website www.embassyvillage.co.uk. Funds are still being sought for the running costs and staffing of the village, perhaps you could help.