04 Nov 2022
Fives Soccer Centres launch next-generation football centre at TraffordCity for Manchester community
New five-a-side football centre offers innovative, immersive experience to players with cutting edge technology and industry leading innovation.
Fives Soccer Centres are proud to launch their revolutionary football centre in the heart of Manchester, offering an unrivalled small-sided football experience for the local community.
The venue has been equipped with state-of-the-art, industry-leading technology and world class facilities with eight larger than standard small-sided football pitches, which are the first in the UK to be approved by the FA.
Each pitch offers individual player tracking, allowing everyone to analyse and log their performance stats after a game, as well as video match replays and highlights so players can show off their cat-like reflexes or top corner goals to all their friends, all powered from the dedicated Fives mobile app.
The new app also allows players to check pitch availability at the Trafford venue, confirm and split payments for bookings, access their pitch and after they're done, watch and share their game footage.
The pitches also feature digital scoreboards, with floodlight control and gate and pitch access available through the app with a unique QR code.
Fives held a 'Festival of Football' on Tuesday 1st November to launch the venue with footballers, celebrities, and media all in attendance.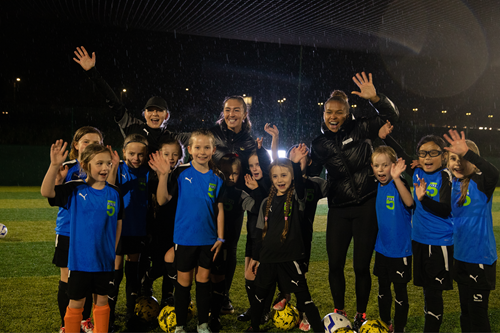 Manchester United Women's captain, Katie Zelem said: "It was a fantastic event to launch the new Fives Trafford venue. They are leading the way in offering a professional experience to all players, and I really feel like the future of football is in safe hands."
Of the launch, Scott Penman, CEO of Fives Soccer Centres said: "We have a clear plan to revolutionise the small side football market using digital technology to modernise the customer experience, remove significant operational cost as well as the use of modern technology to dramatically improve and professionalise the at venue player experience.
"We hope that, as a brand, Fives can change the shape of 5-a-side football over the coming years and encourage a more diverse and inclusive customer base into the sport we all love."
The venue has opened in TraffordCity and is easily accessible for all budding footballers in the local area.
James Whittaker, Peel L&P's Executive Director of Development said: "The launch of Fives Soccer Centre marks another exciting milestone for TraffordCity. We are committed at Peel L&P to creating new opportunities for our local community, and by working in partnership with Fives we can offer a new, innovative space to exercise, socialise and support the health and wellbeing of the local community."
The facility is open to the public and individual pitches and leagues can be booked via the Football Fives mobile app, available to download from the App Store and Google Play.
For more information as well as event bookings visit www.football5s.com/. Follow on Instagram: @football_fives
​For more information about TraffordCity, visit Retail and Leisure - TraffordCity (peellandp.co.uk)
Follow TraffordCity on socials! @TraffordCity​