09 Feb 2022
International Women & Girls in Science Day: Celebrating our all-female Sustainability team
A strong understanding of science and technology is essential when you are at the forefront of tackling climate change and promoting climate resilience.
Working in partnership we are innovating and implementing new ideas at scale, and our all-female Sustainability team, all with unique science backgrounds, are driving this critical work forward.
To mark the UN's upcoming International Day of Women and Girls in Science on Friday 11 February, we sat down to speak with the team, led by Sustainability Director Jo Holden, to discover their journey into science, what inspires them, and why it is important to involve more women and girls in science.
________________________________________________________________________________________________
(Main photo L-R: Laura, Connie, Victoria and Jo)
What was your journey into science, and, more specifically, sustainability?
Jo Holden (Jo), Sustainability Director: Starting with a love of the outdoors, and an interest in Geography and Geology my sustainability journey specifically started on 26th April 1986! It is the date I will always remember, when the Chernobyl nuclear disaster rocked the world, and I distinctly remember being told not to drink milk from the local dairy cows due to the risk of it being contaminated, and I had to understand more!  I went on to study Geography (and the radioactive fallout) at university, which included a year's placement at the Scott Polar Research Institute measuring the melting Arctic ice, and then I went on to live and study in Saskatchewan, Canada for 4 years completing my Masters in Geology whilst working for Environment and Climate Change Canada.
Laura Atkinson (Laura), Sustainability Manager: From an early age I was drawn towards maths and science. Pairing it with my love of being outdoors I naturally gravitated towards Geography through my later years at school and then on to university. Sustainability was engrained throughout my degree, and I was fascinated by the way it brought together how people and places interact through environmental, social, and economic viewpoints. After graduating I was accepted for a three-month internship within the Sustainability Team at Peel L&P which went very well because I am still here nearly four years later!
Victoria Sweeney (Victoria), Sustainability Advisor: My favourite subject at school was always Geography; I loved learning about the natural world and how humans interact with it. I remember when the choice came to selecting a university study topic being advised to study something you are passionate about, so for me that was geography.
During my study Sustainability soon became my topic of interest, and naturally, I began tailoring my module choices around this, eventually writing my dissertation on the work of NGOs in the Brazilian Amazon rainforest.
Connie Dook (Connie), Sustainability Advisor: I'd always loved science in school which I think was down to my teachers, both of whom were women. I started taking an interest in sustainability at university during the lead-up to COP26 in Glasgow. From then, I knew I wanted to be involved in environmental change in some way, so I decided to study for a masters specialising in Clean Technology.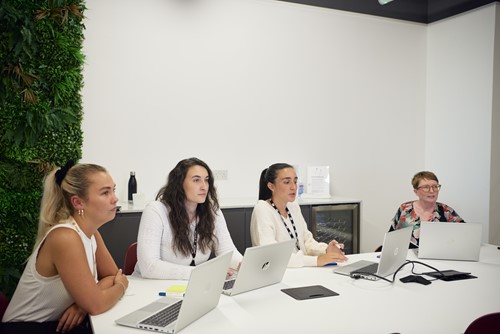 What is Peel L&P doing to help create a more sustainable environment for future generations to enjoy?
Jo:  Over many years now we have worked to embed sustainability into everything we do to improve the climate and social resilience of our communities. As a regeneration company this often starts with the built environment but extends further to include working with partners to create new training, employment and local business opportunities through our work.
Connie: This is a company that understands its responsibility in the fight against climate change. The built environment contributes around 40% of the UK's total carbon footprint, so sustainability in the built environment can drive real change. Our activity ranges from the implementation of low carbon energy solutions, to providing new green spaces and the promotion of active travel – improving people's physical and mental wellbeing, as well the environment.
Laura: Key to embedding Sustainability across our business, as Peel L&P we have developed seven key Sustainability principles for everyone in the business to follow. This framework supports sustainability becoming a key part of the working culture and places it at the heart of decision making.
Victoria: The 17 UN Sustainable Development Goals (SDGs) are an urgent call for action by all countries.  For us, it was important that Peel L&P aligns with the SDG goals where we could deliver and make an impact. The five SDG's we have selected drive 22 actions that we have set out to achieve in our 5-year action plan. Delivering real action - not just pledges.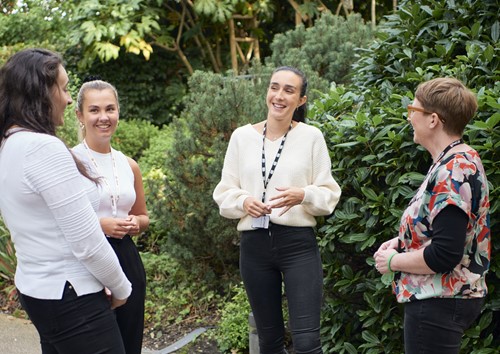 Why do you think it is important to involve more women and girls in science?
Jo:  By not involving women we are missing out on the perspective of a huge portion of our society. Women bring different skills to the table in addition to academic knowledge and are particularly adept at multi-tasking, lateral thinking, and communication – we need all the skills we can muster to solve the sustainability challenges of the future.
Laura: No one has travelled the same road - we have each had different experiences that have made us who we are today with the skills we can use to add value to our communities. Supporting women in science-based careers will ensure a representative view of the population is embedded in decision-making and holistic solutions can be developed. It is this big picture thinking that we need to solve some of today's most pressing sustainability-related issues.
Victoria: I think it's important to empower women to enter industries that are male-dominated. Representation is key to achieving sustainable development, under-representation can lead to people going without a voice and feeling unheard. To better understand the impacts of climate change/tackle global problems we need to understand different communities - increased female participation helps to achieve this.
Connie: For a wider scope of thought, science should incorporate people from as many backgrounds as possible – the more, the better! The stereotype of men being 'better' at science I think (I hope) is dying out, but the more women who want to be involved in STEM careers, the more variety, perspectives, and talent we will see.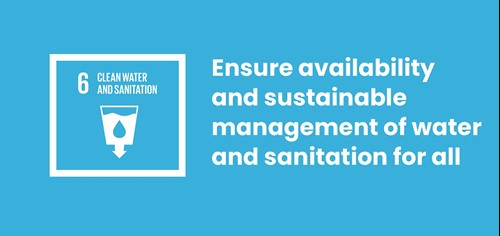 This year's assembly focuses on accelerating progress towards the achievement of SDG 6 (Clean Water and Sanitation), focusing on the topic "Equity, Diversity, and Inclusion: Water Unites Us".
What action will you take to honour this in recognition of your role as an agent of change?
Jo: Our Executive Development Director, James Whittaker, cycled around the coast of the UK in support of WaterAid last year. This was an awesome achievement that I couldn't possibly replicate, but WaterAid is a fantastic charity, and I will be donating to them this year. Any donations received before 15th February will be doubled by the Government.
Victoria: Within my job role I will investigate where tap aerators can be installed across assets to improve efficiency and reduce water usage, and in my personal life I will commit to reducing my water usage at home to help contribute to SDG 6.
Connie: Peel L&P has pledged to explore the possibility of fitting aerators on taps across our assets to reduce water usage. Personally, I'm going to try to use less water at home, for example, by taking shorter showers.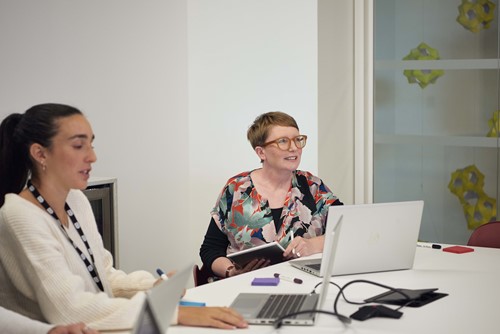 If you could give any girl or woman advice who is just starting out their career in science, what would it be?
Jo: Just go for it. Don't let anyone tell you that you can't do it – I wasn't top of my class or the most confident but finding something you enjoy and makes you feel "I'm good at this" can make a big difference. There are so many opportunities out there and the career path may not be immediately clear, but you may find something even better by taking a circuitous route, rather than the direct path you were thinking of. 
Laura: I would say that there are more careers out there than what you were told in the classroom so don't be afraid to explore them and that you'll never stop learning; each day will bring a new opportunity to push us to be the best we can be.
Victoria: Go for it! Get involved in the discussion, ask questions, and don't be afraid to be passionate - it's your greatest power.
Connie: Be confident in yourself, know your strengths, and make sure to show them off.
As mentioned, this year's awareness day focuses on the topic "Equity, Diversity and Inclusion: Water Unites Us". This year, Peel L&P will continue to drive our Peel Waters communities, and support the Bridgewater Canal, which connects seven boroughs across the north west of England. We're also extremely excited to see how the £65,000 raised by our Development Director, James Whittaker, is used to help provide clean water, decent toilets, and good hygiene in some of the world's poorest communities, transforming lives so people can build a better future.
You can watch our Sustainability and ESG video here.