05 Jan 2023
Liverpool Waters: An Update from the Director of Development, Chris Capes
As we look into 2023, the tenth year since Peel L&P's 30-year master plan for Liverpool Waters was granted consent, we see a busy period ahead with ambitious and exciting developments in all stages of the project pipeline.
Our ambition and vision for Liverpool Waters has not changed since the master plan was granted consent in 2013.
We are working hard to deliver on the 30-year vision to completely transform the city's northern docks, creating a sustainable world-class, high-quality, mixed-use waterfront and bringing life back to the historic docklands.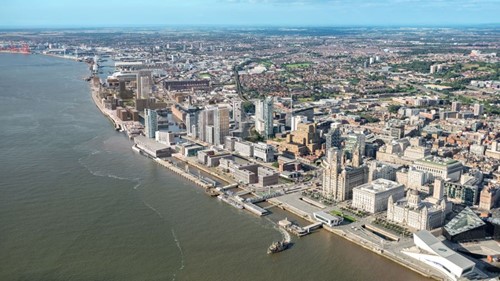 We will deliver real regeneration. This means more than just new buildings, it is about creating entirely new integrated communities, whilst creating opportunities for sustainable employment for the next generation.
Our development of flexible and adaptable spaces, new parks, and investment in active travel infrastructure, all with a focus on long term sustainability, will help drive substantial economic growth for Liverpool and the city region.
Liverpool Waters is a place thousands of people now call home. Between March 2019 and September 2021, 667 new homes were completed, bringing the total number to over 1,100. And there are more new homes to come. Between Patagonia Place and Romal's new waterside development, more than 600 new homes will be under construction in the next 12 months.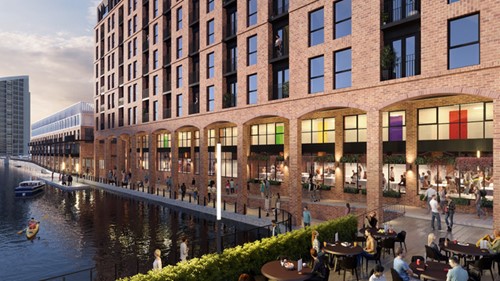 With Everton's new stadium, the Isle of Man Ferry Terminal and a range of key infrastructure projects, there is now over £700m of live construction projects ongoing across Liverpool Waters.   
Princes Dock is now a thriving community with a mix of residential and commercial developments sitting alongside hotels, restaurants, and coffee shops. The dock itself has come to life with scuba divers, open water swimmers, canoeists and the occasional fleet of Dragon Boats. Add the backdrop of the visiting cruise ships and you have a fantastic extension of a world class city.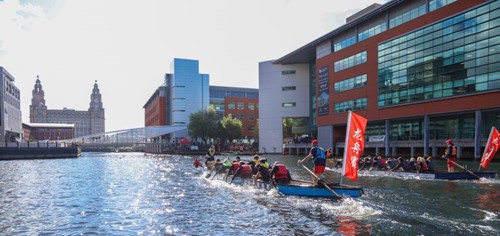 There is more to come too, with additional Grade A office space soon to be developed alongside exciting new residential, retail and leisure developments.
Such is the scale of Liverpool Waters, spanning across 60 hectares, Princes Dock is just the first of five interconnected neighbourhoods, with the others being Central Docks, Clarence Docks, Northern Docks and King Edward Triangle.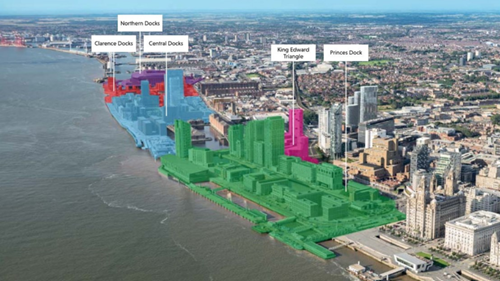 Next up – the biggest of them all
Our focus is now on Central Docks. With outline permission for up to 3,800 homes, commercial, leisure and retail this is the largest of the five neighbourhoods planned for Liverpool Waters. The recent planning application for Central Park and the surrounding infrastructure will literally pave the way for the development of a new sustainable, mixed community that will be delivered over the next 10 years.
Proposed Central Park
Central Docks will be an inclusive place, a place that will bring people together; residents, businesses and visitors. We will offer a mix of new homes with townhouses and mews sitting alongside denser city living. There will be a mixture of homes to suit a range of needs, including affordable, to attract a diverse range of residents, including families. New homes will sit alongside retail and leisure, all supported by new community assets providing education and healthcare.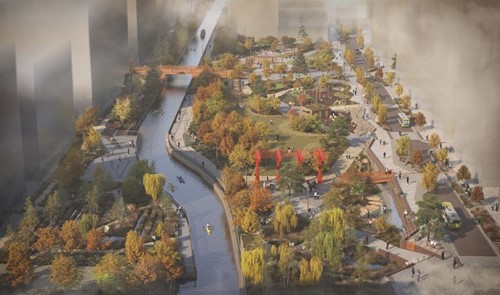 We also have an opportunity to be distinctive and unique. We can deliver heritage-led regeneration, showcasing hundreds of years history in the context of a world-class active waterscape with opportunities for sport, leisure, and much more.
Public realm within Central Docks
We want Central Docks to be a progressive place. With significant investments in new green spaces and public realm sitting alongside new active travel routes, we want to build a healthy community that will be seen as an exemplar in sustainable city living.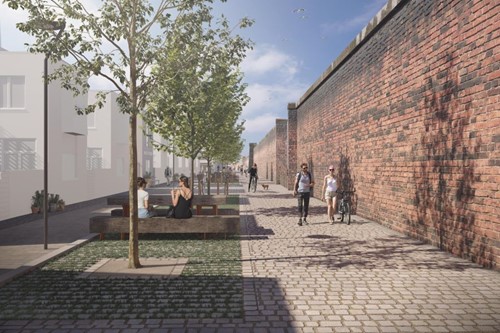 Central Docks will be the next chapter in the evolution of Liverpool's iconic dockland.
Central Docks, like the other neighbourhoods of Liverpool Waters, will be connected to its surrounding communities, including the exciting Ten Streets area. As Liverpool's Ten Streets slowly but very surely takes shape, the potential to join up new cultural, creative and entrepreneurial spaces with all the riverside regeneration happening from Princes Dock to Bramley-Moore Dock, is enormous, bringing much needed economic and cultural opportunities to the north of the city.
One of the key priorities in the regeneration of the docks is allowing full access to the new place as it emerges. For decades the riverside docks, with their rich heritage and waterfront views, have been largely cut off and inaccessible to local communities and the wider city region.
The development of Liverpool Waters, with Princes Dock and Central Docks leading the way, we will open the riverside for the benefit of all.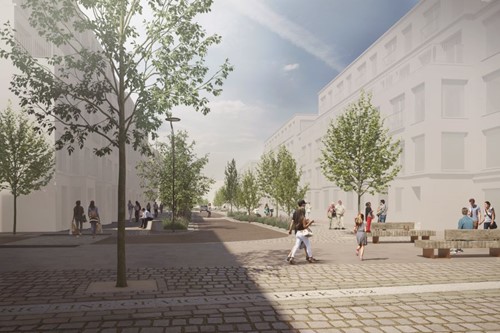 We want to be part of a connected Liverpool waterfront where pedestrians and cyclists can travel seamlessly from the Sitting Bull in Aigburth, through Liverpool's world-class city centre waterfront, and all the way along to Everton FC's new stadium at Bramley Moore Dock.
Delivering the Masterplan
With the focus on the huge range of exciting developments across Princes Dock, Central Docks and the new Everton stadium, it is important to note we are still totally committed to delivering the Liverpool Waters master plan in its entirety over the next 20+ years.
This will include the complete regeneration and development of Clarence Docks, Northern Docks and the King Edward Triangle, bringing further opportunities and economic prosperity to Liverpool.
Clarence Docks - a new neighbourhood with water at every turn
The Clarence Docks neighbourhood will see a dense but low-rise townscape, focussed around townhouses, mews and low-rise apartments. The area will include substantial public realm to appreciate the unique views of the River Mersey and the Wirral as well as surrounding heritage assets such as the Clock Tower, Stanley Warehouse complex and the Graving Docks. Car access will be minimised due to the constraint of the dock network to, further promoting and prioritising walking and cycling throughout.
Northern Docks – a game changer
The Northern Docks will be dominated by Everton FC's new stadium at Bramley-Moore Dock, which will be surrounded by stunning public realm and restored heritage assets including the hydraulic tower.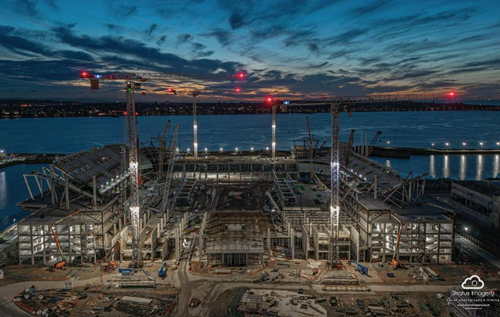 This will be supported by retail, community and leisure developments that will both maximise and mitigate the potential of large pedestrian footfall on matchdays. The neighbourhood will also provide substantial public realm around Nelson Dock to enhance the unique views.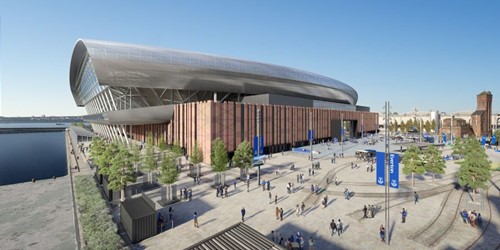 The rest of the Northern Docks is currently being master planned to complement the positive impact of the stadium. Development will focus around residential, leisure and hotel development. Like Clarence Docks, the further promotion and prioritisation of walking and cycling will be essential.   
King Edward Triangle – a flourishing community
From breweries, gyms and pizza bars, to escape rooms and axe throwing, King Edward Triangle is already a diverse, flourishing community of small businesses, offering food, drink and leisure experiences alongside more traditional 'industrial estate' businesses.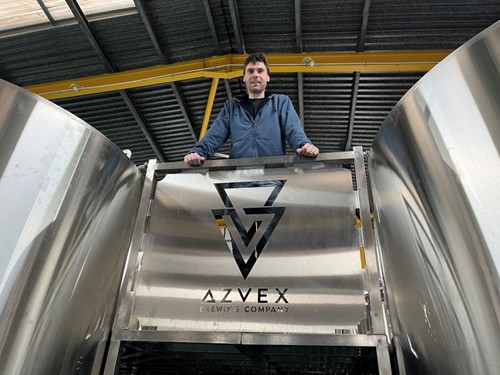 As a pivotal link between Liverpool Waters and Liverpool's Central Business District and the city centre, the long-term vision is for a mix of commercial and residential use, supported by retail to animate this important piece of the city. This key strategic connection between the city centre, Liverpool Waters and 10 Streets will deliver a vibrant and active streetscape for walking and cycling and will tie together the Liverpool Waters neighbourhoods and connect the north of Liverpool to the city centre. 
The development of this key waterfront brownfield site is a huge opportunity for Liverpool, the city region and beyond.
Liverpool Waters is an opportunity to grow the city and grow the economy, providing sustainable employment for thousands along the banks of the Mersey. The regeneration of the northern docklands is an opportunity to develop new inclusive, diverse, healthy and sustainable communities with a mix of high-quality new homes.
Liverpool Waters also presents an opportunity to protect and restore the iconic heritage waterfront, giving access to everyone and creating opportunities for leisure and recreation for local people.
Collaboration is essential
Our experience tells us that to deliver on this vision and bring about regeneration on this scale takes true collaboration across an array of different partners.
Investors, developers, planners and designers need to work alongside partners in local, regional and central government to really maximise the potential of such a large brownfield site.
All the projects currently under construction at Liverpool Waters, worth around £700m in total, have come about due to true collaboration and partnership working.
We can do it and we know it works.
For more information about Liverpool Waters, visit: Liverpool Waters regeneration project (peellandp.co.uk)