14 Nov 2023
Liverpool Waters to keep Taiwanese sculpture at Princes Dock
A popular sculpture by Taiwanese artist, Eleng Luluan, which was installed at Princes Dock as part of this year's Liverpool Biennial festival, will now remain at Liverpool Waters for the next five years.
The installation was due to be removed last month. However, due to the impact and popularity of the piece at Princes Dock, waterside regeneration specialists Peel Waters have offered to extend its duration, as well as commit to the upkeep and maintenance of the sculpture to encourage even more workers, visitors and residents of Princes Dock and beyond to engage with the piece.
Liza Marco, Senior Asset Manager at Liverpool Waters, said: "Visitors to Princes Dock have been flocking to see the sculpture, which is in a prime position for holidaymakers arriving on cruise ships, and we have received some great feedback.

"With many new businesses, as well as leisure and hospitality, opening up at Princes Dock, footfall has increased significantly and Luluan's 4m high sculpture provides a visually exciting focal point on the dockside."
The monumental sculpture, titled 'Ngialibalibade - to the Lost Myth' (2023), is based on a traditional Earthenware pot which is considered spiritual in Taiwanese culture. It is inspired by the artist's memories of growing up in the indigenous Kucapungane community, a Rukai aboriginal village in the mountains of southern Taiwan.
The indigenous community's relationship to water is very important to Eleng's piece so its waterside location at Liverpool Waters is a very fitting place from which to fully appreciate the sculpture, which is made of steel and recycled fishing nets.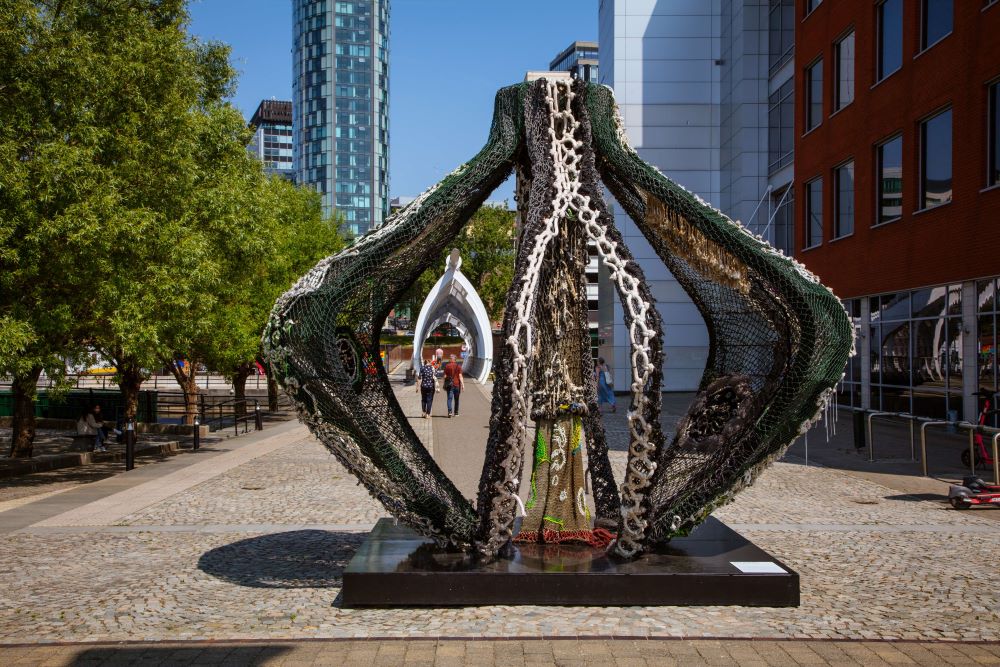 'Ngialibalibade - to the Lost Myth' depicts the legend of the founder of Rukai, believed to have been born from a pottery jar protected by two snakes. In the Rukai language, 'Ngialibalibade' means 'a happening' or 'a state of going through'. It is an adjective that describes the growth of life, the transformation of the soul, the change in nature, the rapid development of technology, the noticeable changes in life, or the subtle ones hiding in our hearts.
Landslides and typhoons are common in the Rukai region and are increasing in frequency due to climate change. These natural disasters often cause the communities and families based there to become displaced, each time uprooting the villagers' lives and negatively impacting their cultures and traditions.
Through positioning the work between two bodies of water – the River Mersey and Princes Dock – and by using found and recycled fishing nets as a key material, Luluan asks us to consider our relationship to and reliance on water, and to reflect on the devastating impact of climate change here and around the world.
Liza added: "We are very honoured to display Eleng's work at Liverpool Waters. Her sculpture, and her story which inspired it, is fascinating and really gives a sense of her life and the culture of her community in the mountains of southern Taiwan."
This commission was supported by The Alliance Cultural Foundation, Council of Indigenous Peoples in Taiwan, Liverpool BID Company, Ministry of Culture, Taiwan (R.O.C.) and Asian Cultural Council, Taiwan Foundation South 33 Branch.
Liverpool Waters is part of Peel Waters, a UK wide portfolio of vibrant and innovative, waterfront developments, delivering large-scale, sustainable regeneration projects, creating jobs, economic growth, new homes and new public realm across the country.