17 Jul 2023
Londis to open brand-new waterfront convenience store at Chatham Waters
One of Britain's leading convenience store brands, Londis, has announced it will be opening a brand-new store at Peel L&P's Chatham Waters.

The well-known retail franchise will bring a great choice of big brands and daily essentials to Chatham Waters. The new 2,102 sq. ft waterside store will be located in the ground floor retail unit of The Kell which is home to over 200 residents. The arrival of Londis in Chatham Waters also means the creation of 15 new jobs in the retail sector for the local community.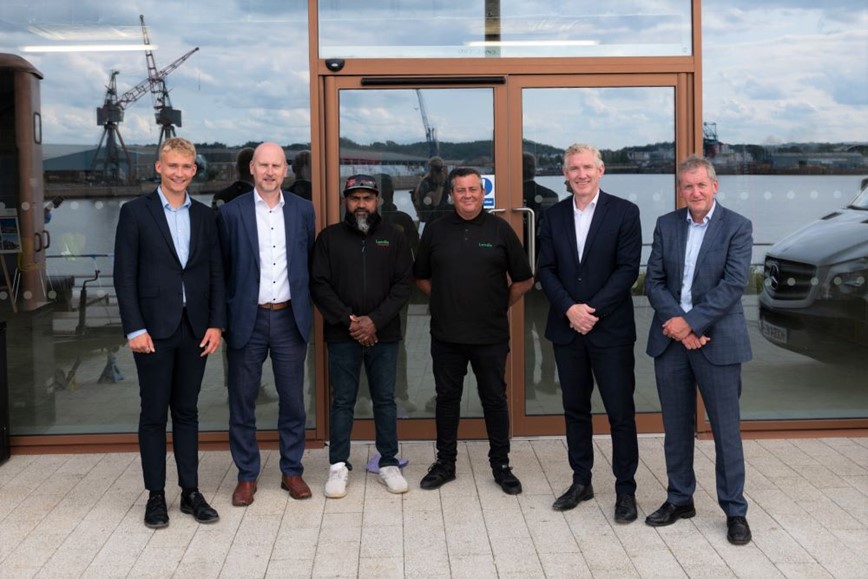 Pictured: Local Agents Harrisons Chartered Surveyors, The Local Londis Team, incl. Pradeep Kumar Velayudan with James Whittaker and Paul Chappels from Peel L&P in front of the future Londis store
In addition to providing a convenient shopping experience for residents and the local community, the new Londis store will also offer quality onsite coffee, handy grab-and-go hot food options and freshly baked breads and pastries. The team will also be sourcing and selling local cheeses and wines to sell at their Chatham Waters store.
The store will also include a newly created kitchen area which will be used by the team to make fresh, homemade sandwiches daily on site. A large, chilled area will be installed which will house every-day essentials alongside a large range of non-dairy alternatives, as well as a convenient ready-meals selection.
Alongside well-known brands, the new Londis store will also bring along their cost-effective brands to Chatham Waters, including their 'Farm Fresh' range which delivers great value, quality fruit and veg along with their 'Euro Shopper' brand which offers essential grocery products at permanently low prices.
Londis' new Chatham Waters store will also offer other convenient services, including an on-site cash machine, phone top-up facilities, parcel services and a large electronic tobacco selection will be available.
Pradeep Kumar Velayudan, Franchise Manager for Londis, Chatham Waters said: "Londis is a well-known, trusted brand that has continuously proven to have a positive impact on many local communities and we are really looking forward to working with Peel L&P to bring this new and convenient offering to Chatham Waters.
"Being part of the community is really important to us and we have already started getting to know our neighbours, hearing from them directly about what they want and need in their local store; we will keep evolving our offer to keep it fresh and interesting for our community. We can't wait to welcome customers into their new local Londis store at Chatham Waters."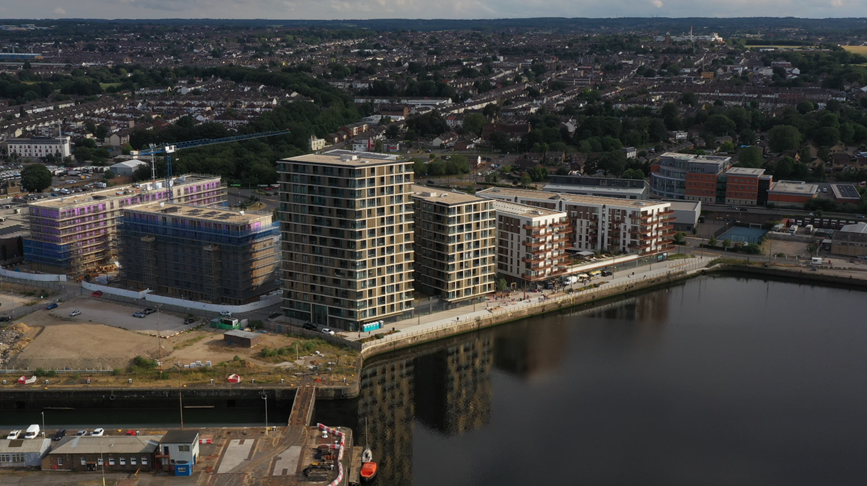 Pictured: Chatham Waters in July 2023
Chatham Waters is Peel L&P's biggest regeneration project in the South and has been carefully planned to ensure the former brownfield site delivers a truly inspirational new destination. Over £100 million has been invested into Chatham Waters so far, delivering significant infrastructure improvements to the highways, flood defence and local amenities; including the creation of The Waterfront UTC offering on-site stem-focussed education specialising in construction and engineering; the ASDA superstore and the Mast & Rigging family restaurant; as well as 400 brand-new, award-winning homes and accessible public realm for the community to enjoy.
James Whittaker, Executive Director - Development at Peel L&P said: "We are really looking forward to welcoming Londis to Chatham Waters. With nearly 400 occupied homes, over 200 students studying at the Waterfront UTC and hundreds of jobs already created on site, this new store will be a much welcomed, convenient, onsite addition for the local community. We designed our retail units at Chatham Waters to make the most of the unique waterfront location and we hope to continue working in partnership with businesses to bring many more local operators and opportunities to the area."
Local Kent based agents, Harrisons Property were instructed by Peel L&P and have been advising the local Londis team on planning, the internal fit out of the new store and embedding themselves in the local community.

Max Terry, Surveyor at Harrisons Chartered Surveyors, added: "As a local Kent based business, this is an extremely exciting time to be working with Peel L&P and we are proud to be supporting them on bringing forward the first commercial element of an impressive masterplan for Chatham Waters. We are delighted to be bringing new opportunities and business to this upcoming area where the future is economically, environmentally, and socially very bright."


Londis at Chatham Waters is due to open in Autumn 2023.
For further information or any enquiries about the remaining units, please call Max Terry on 01634 265900 or email mterry@harrisons.property