10 Jan 2022
Peel L&P firms up community commitments at Hulton Park in Bolton
Peel L&P has strengthened its commitment to communities with its announcement of a Community Charter for its proposed ground-breaking redevelopment of Hulton Park in Bolton to create a new sport and healthy living destination.
The Community Charter sets out commitments to ensure that the proposals for Hulton Park deliver early and lasting benefits for the nearby neighbours in the surrounding community. It sets out 40 commitments that focus on the social value of proposals, in terms of public accessibility, inclusivity, affordability, culture, history, employment, and community facilities, along with commitments to environmental gain.
The Charter also commits to securing relocations or settlements with existing agricultural tenants, to ensure those who currently manage the estate are provided for through the new development, with Peel L&P having recently acquired additional land in the area to help facilitate this.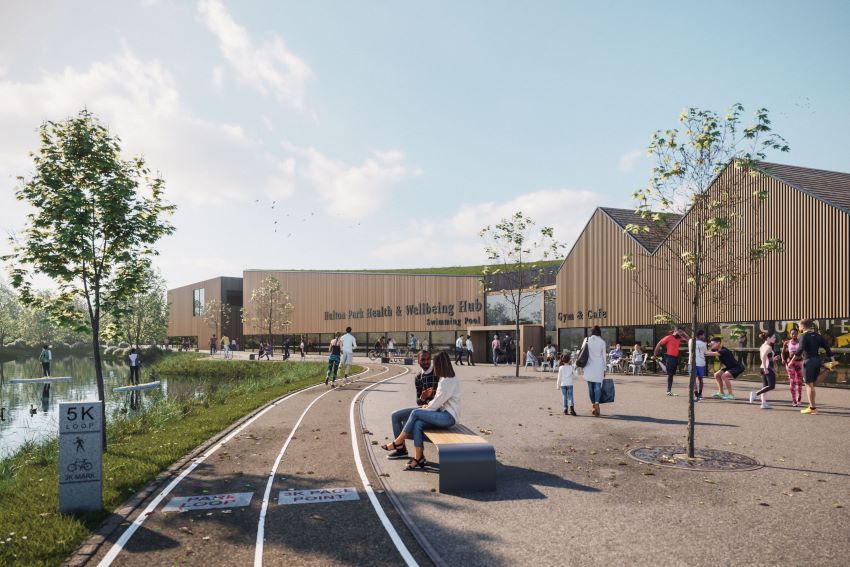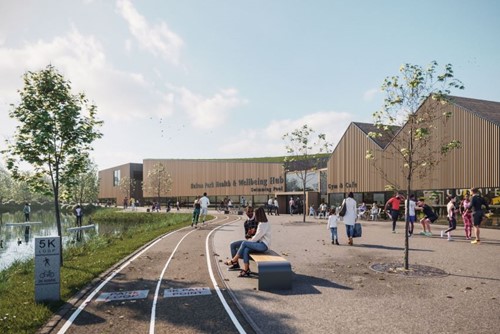 Health and Wellbeing Hub CGI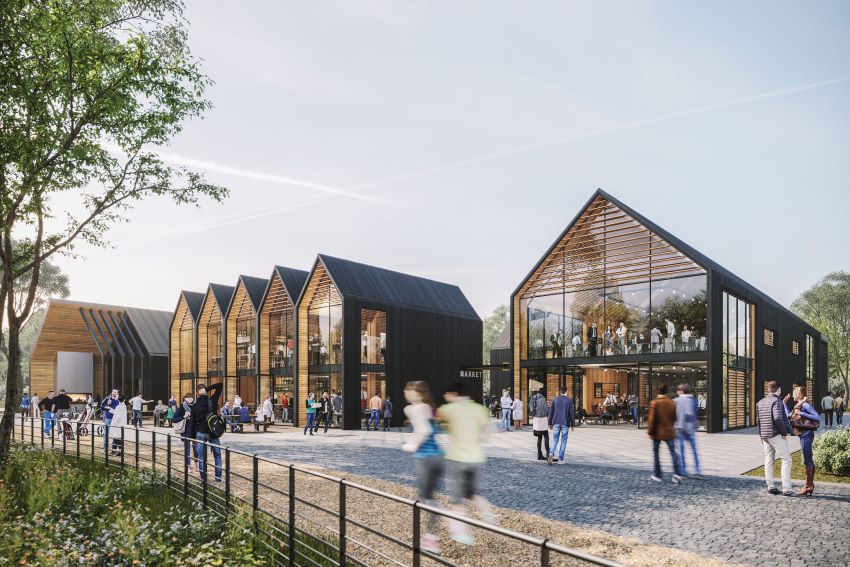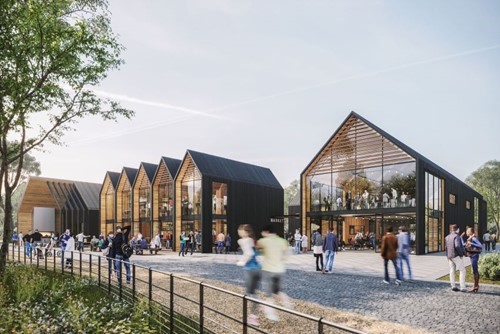 Hulton Park Barns CGI
The Charter has been prepared following discussions with local stakeholders, including the Hulton Park Community Liaison Group (CLG). The CLG was established by Peel L&P to provide a forum for two-way dialogue with the local community, with representatives including residents, councillors, community groups, such as Bolton & Farnworth Scouts, local churches, and groups interested in the future of the estate, including Hulton Estate Area Residents Together (HEART) and the Over Hulton Neighbourhood Forum.
The CLG has met regularly since its formation earlier in 2021 and at the most recent meeting this week, members were given early sight of the Community Charter. Representatives from Peel L&P explained the purpose of the Community Charter and have received initial feedback from the CLG which has been reflected in the draft.
As part of Peel L&P's commitment to listening to community partners, it is envisaged that these commitments will evolve as the project progresses and their delivery will be ensured by planning conditions that would be attached to the revised proposals. Peel L&P remains committed to engaging with local people regarding the Community Charter and would welcome any feedback from those interested in the plans.
Richard Knight, Peel L&P's Director of Planning and Strategy, said: "We are excited to share this draft Community Charter. It shows how we intend to ensure the restoration of Hulton Park can be done sensitively and in a way that provides a wide range of benefits for local people. Our vision for Hulton Park will ensure that residents can access and enjoy the Park in a way that has never been possible before throughout the estate's 700-year history, with new community facilities, new public green spaces, and over 15km of new and improved footpaths and cycleways through the site.
"The sporting legacy of Hulton Park as a centre of golfing excellence would not only bring the Ryder Cup and other tournaments to the area, but also help develop future generations of golfers and make sport more accessible for under-represented groups including young people, women, those with disabilities and the wide range of diverse communities across the North West."
Peel L&P's plans will create a new international sports destination and resort, extensive new areas of green spaces, and community facilities, creating over 1,000 jobs and provide a mix of family and affordable housing.
The revised proposals are the result of community feedback that has been taken on board, in particular making the scheme more sustainable, inclusive, accessible and to create more new community facilities for local people.
The latest set of changes include the retention of Dearden's Farm buildings and conversion into a village hall, a retail unit and homes, the retention of the Miners Memorial Trail and the inclusion of additional outdoor sport facilities.
The revisions also add off-site footpath improvements to enhance connections to the surrounding area, including Daisy Hill station, Atherton and Hag Fold stations, and Cutacre Country Park.
The submitted plans are currently being reviewed by Bolton Council and are due for determination later in January 2022.
A copy of the Community Charter for Hulton Park can be viewed here.
Planning information
A public consultation on the refreshed proposals launched on Wednesday 2nd June and concluded on Wednesday 30th June 2021.
Peel L&P submitted a planning application for this refreshed proposal to Bolton Council in September 2021 – this has been the subject of a formal consultation twice, with the final date for comments being Friday 7th January 2022, which can be made via the Council's website.
Residents can continue to contact the team via the methods listed on the consultation website: hultonparkconsultation.co.uk.