06 Dec 2022
Peel L&P hails 2022 a major success at Trafford Palazzo
Peel L&P is celebrating at Trafford Palazzo, as its team completes 60,000 sq ft (5,575 sq m) of lettings and brings four significant flagship venues to TraffordCity's innovative retail and leisure destination, in just one year.
The landlord acquired the retail and leisure asset in 2021 and rebranded it to Trafford Palazzo, a brand which encompasses and complements the Italian heritage design.
In the past year Trafford Palazzo has agreed transactions with international brands, national firsts, new concepts, major flagship venues and some of Greater Manchester's most popular and exciting brands.
Trafford Palazzo has also become synonymous with creating a programme of community events and activations for all ages, from a month-long wellness activation, a half term extravaganza, a 4-week Summer Fest and more recently the festive, 'Christmas on TP Street'. Over the past year, Trafford Palazzo has played host to so many memorable experiences and meaningful activities which have helped generate an average of 100,000 visitors a week.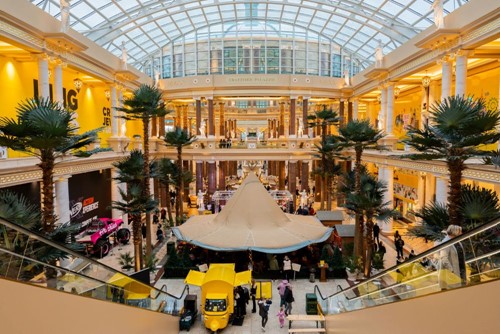 The food and beverage offering has been elevated with Italian restaurant Matterello, backed by Manchester foodie, Steve Pilling, opening its doors to rave reviews and Manchester born and bred Second City Coffee launching its coffeehouse earlier this year within the Trafford Palazzo mall.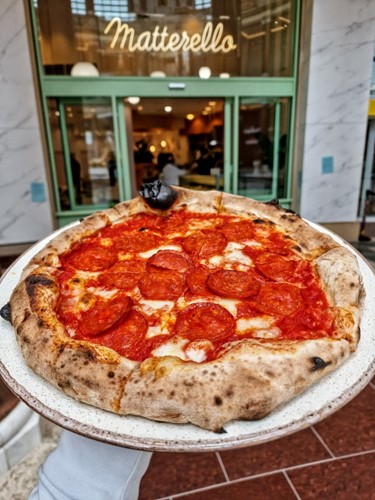 A focus on attracting major leisure brands that elevate the offering as a rival destination for retail, leisure, and entertainment for families of all ages, has proved extremely successful with several exciting brands choosing Trafford Palazzo.
King Pins, a multi-purpose bowling venue, will open its doors in 2023.  King Pins at Trafford Palazzo is the first site in the UK and will feature 15-lanes of ten pin bowling and 6-lanes of duckpin bowling alongside a focal point bar serving over 20 beers and a selection of soft drinks. A pop up, giving a taste of their offering was activated in the main malls in October and proved very popular. 
Matt Jones, Founder and CEO of King Pins, said: "We are really excited to be launching our flagship venue in Manchester and where better than the impressive surroundings of Trafford Palazzo.
"The venue will be family friendly during the day with plenty of activities to keep the whole family occupied. When the evening comes the lights will go down, the music will go up, and the atmosphere will become electric, appealing to evening entertainment seekers."
Rocafella Leisure announced last month that Nerf AX will join a growing leisure mix at Trafford Palazzo with Manchester based American-inspired diner, Archie's, to be their operator of food and beverage.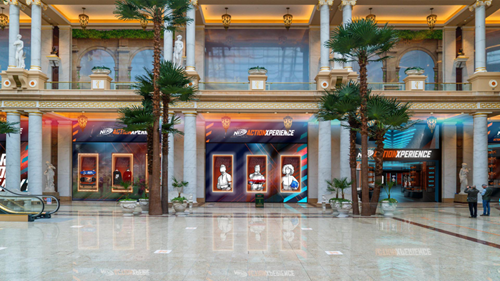 An exciting coffee operator has also taken 2,150 sq ft (200 sq m) of space with further details to be announced. The new venue will start work on site for its first north west site at Trafford Palazzo in January 2023 with a planned spring opening.
Underpinning Peel L&P's core value, in establishing Trafford Palazzo as the place for community engagement, the team has hosted free activities and events for families throughout the year including an Easter holidays event in partnership with several attractions and brands, from crafts, bitesize bootcamp activities, a specially curated music schedule including live DJs and bands and a 'homegrown' slot giving local performers the chance to perform on Trafford Palazzo stage.
Celebrating and supporting local businesses and start-up organisations has been an integral part of the strategy with the team offering the space at Trafford Palazzo free of charge providing a platform for brands such as Project D, Beigel Cheshire, The Juice Hub, and Little B's Cakery.
Sophie Roberts from The Juice Hub said: "The Juice Hub insight figures on Instagram have doubled since we hosted our pop-up and we have received two corporate offers with more on the horizon. Whilst networking and meeting amazing people and brands, this was our first event in a retail space, thus making it a special part of The Juice Hub journey."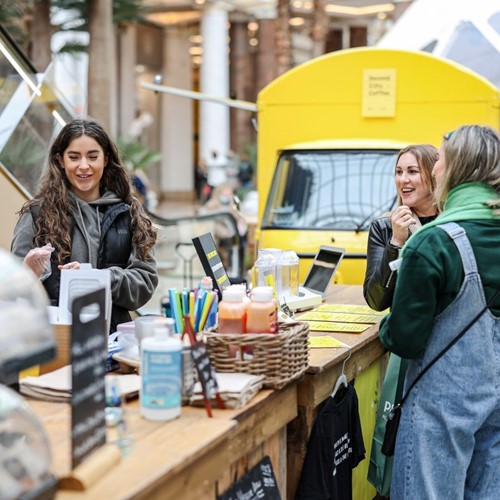 As part of a wider events programme, there have also been various charity collaborations including Bolton Lads and Girls Club, an appeal for Ukraine, events celebrating the Queen's Jubilee as well as two events for Baby Loss Awareness Week raising funds for Tommy's charity. A campaign to support Mental Health Awareness Week also took place alongside a 4-week wellness schedule encouraging all Trafford Palazzo visitors to take time for their health and encouraged mindfulness across the region.
Earlier this year, landlord Peel L&P also appointed a Sustainability Manager to manage its ESG credentials across its portfolio. Trafford Palazzo is a key part of this strategy, and a sustainable commitment has been pledged as part of the wider corporate Peel L&P Sustainability Plan.
Amanda Reid, Sustainability Manager Investments for Peel L&P said: "We are fully committed to reducing our impact on the environment and ensuring that we provide places which are socially inclusive and accessible to all.  We have a robust Sustainability Plan in place for the Trafford Palazzo and are dedicated to working with our tenants and engaging with our customers to ensure we are aligned to achieve our goals.''
Mark Whittaker, Executive Director Property Investment and Management at Peel L&P said: "Trafford Palazzo has gone from strength to strength this year and we are extremely proud of what our team has achieved. We have really focused on delivering high-quality customer service and memorable experiences and space now represents the next generation of shopping and leisure destinations. Our aim is for Trafford Palazzo to be known as a destination for memorable experiences that combine retail, leisure, and entertainment. The operators that are opening and are set to open in 2023 absolutely highlight our vision is coming to life."
Other operators at Trafford Palazzo include Primark, Merlin operated LEGOLAND® Discovery Centre and SEA LIFE, Silentnight, Homesense, and Natuzzi.
Trafford Palazzo sits in the heart of TraffordCity, which currently records 44 million visits per annum, has an audience of 11 million within a 45 minute-catchment area and has had an investment of circa £2 billion to date.  Plans are in place to bring the UK's first city-based £200 million wellbeing resort, Therme Manchester, and a new surfing facility called Modern Surf.  Work has started on Peel L&P's Trafford Waters this year, a new waterside community that will bring a mixed-use sustainable community of 3,000 homes, a primary school, offices, hotels and around 20 acres of new public open space. Fives Soccer Centre also launched its next generation footfall centre earlier this year