05 Oct 2021
Peel L&P highlights inclusivity in sport as Hulton Park pop-up welcomes Bolton Lads and Girls Club and people with disabilities
To mark the start of the 2020 Ryder Cup in the USA, Peel L&P hosted a pop-up driving range at Hulton Park, providing young people and people with disabilities with a taste of golf at the planned championship venue.
Hulton Park has been shortlisted to host the Ryder Cup tournament in 2031 or 2035. If selected, the investment would deliver a championship course, resort and community facilities, create over 1,000 jobs and bring long term economic benefits of over £1.6bn to the UK economy.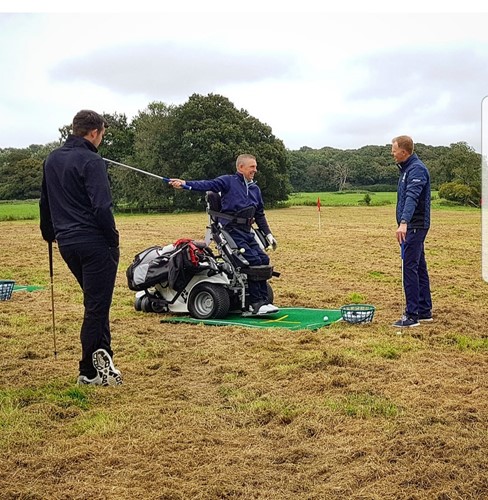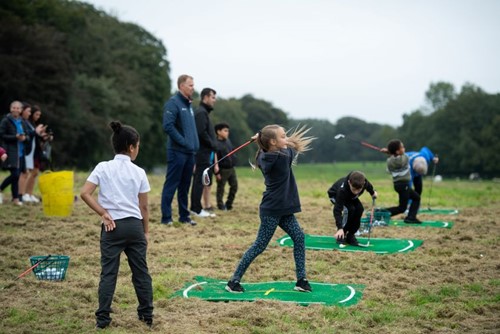 Peel L&P has also pledged to encourage participation in the sport from all parts of the community, including young people, people with disabilities, women and minority ethnic groups.
The group from Bolton Lads & Girls Clubs took part in a number of fun activities led by the team from Trafford Golf, who are supporting Peel L&P on the project.
Laura Pendlebury from Bolton Lads & Girls Club said: "The pop-up golf event at Hulton Park was great. It was wonderful to take some of our young people who were really excited, they all took part and had lots of questions about the Ryder Cup.
"They loved learning how to use the golf equipment, as for some it was their very first time which was lovely to see.
"Some hit quite far so had huge smiles on their faces. They were also really engaged hearing about the opportunity to host the Ryder Cup in Bolton."
Pete Styles, Director Golf at Trafford Golf said: "It was brilliant to meet the young people from the Bolton Lads and Girls Club. They were a credit to the organisation - full of enthusiasm and fun. They were really interested in learning the game and hearing about the vision for Hulton Park.
"Given that some had never held a golf club before, it was great to see how much they enjoyed the experience and hopefully they'll play again.
"Inspiring young people from all backgrounds to play golf is a cornerstone of our legacy plans which include an Academy and learning centre as well as a short 6-hole golf course, an adventure golf course, a driving range and a café at Hulton Park."
As well as the young people, two golfers with disabilities demonstrated the use of a Paragolfer – a revolutionary all-terrain mobility device which allows an individual, such as those restricted to a wheelchair, to manoeuvre into the standing position to replicate a full golfing experience.
If the Hulton Park Ryder Cup bid is successful, Peel L&P would acquire a Paragolfer and make it available for use at the new resort.
Phil Meadows, who took up golf after losing the use of his legs, said: "Using a paragolfer has changed my game massively. It allows me to play my shots from a standing position – meaning I can take fuller swings and have the option to play one or two-armed.
"We need to see more paragolfers and specialist buggies made available at golf courses around the country if we're going to continue to grow the sport and open it to more people, so I'm impressed by Peel's plans. I have no doubt that having a paragolfer available at Hulton Park will encourage more people to experience and enjoy the game."
Find out more about the revised plans for Hulton Park.