20 Oct 2021
Peel L&P invites community feedback on vision for Bamford/Norden recreational and sports hub
Peel L&P has launched a community conversation on its proposals to create a new recreational and sports 'hub' on land between Jowkin Lane and Norden Road in Bamford and Norden, Rochdale.
The recreational and sports hub plans sit at the heart of Peel L&P's ambitions for the site's development, with the company looking to work with local sports clubs, residents and community groups to understand how the local area's sporting offer can be best enhanced.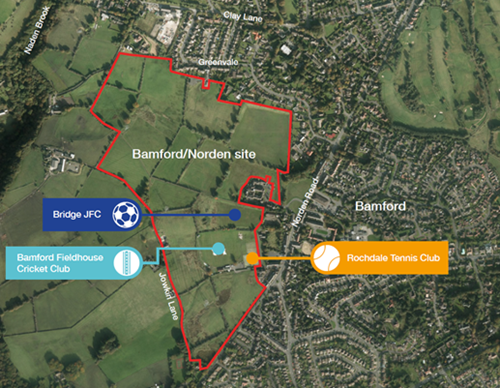 The Bamford/Norden site has been identified as a preferred location to create a new residential led development in the submission draft of Places for Everyone, which is Greater Manchester's long-term plan for new homes, jobs and sustainable growth across the nine districts (Bolton, Bury, Manchester, Oldham, Rochdale, Salford, Tameside, Trafford and Wigan).
Places for Everyone sets out that the Bamford/Norden allocation will deliver a high quality recreational and sports hub for the local area, as well as new homes and infrastructure improvements to meet local needs.
Jonathan England, Peel L&P's Development Director said: "We have a special opportunity to create a lasting legacy through the recreational and sports hub. By working closely with the local community, we aspire to build on the area's sports, health and wellbeing provision and deliver a new hub to be enjoyed for generations to come.
"The recreational and sports element is a fundamental part of the wider plans for the Bamford/Norden site and we want to start an early conversation on what local people would like to see. So, whether you already use sports facilities in the area and have thoughts on how they could be enhanced, or have big ideas on what's missing when it comes to sports, health or wellbeing provision, get in touch and have your say."
Peel L&P is asking locals to share their thoughts on current sports facilities in the area, how they could be improved, and what additional sports, health and wellbeing amenities people would like to see included as part of the Bamford/Norden scheme.
The community conversation runs until Wednesday 3 November 2021 and local people can find out more and get involved by:
- Visiting bamford-nordenconsultation.co.uk and completing the online questionnaire
- Posting comments to the Freepost address. Write Freepost HAVE YOUR SAY on an envelope and post it – there is no need for a stamp
- Calling the dedicated Community Information Line 0800 689 1095 (Monday – Friday, 9:00am to 5:30pm) with any questions or to request a paper copy of the questionnaire
- Emailing Bamford-NordenConsultation@havingyoursay.co.uk
The feedback received during this initial community conversation will be used to inform the development of plans for the site, which would be subject to future consultation ahead of the submission of a planning application.
To help inform the preparation of plans for the site, Peel L&P is also asking Rochdale Council for its opinion (formally known as a 'scoping opinion') on the topics, methods of assessment and level of detail required in the Environmental Statement that would accompany a future application for planning permission.