07 Jul 2022
Peel NRE collaborates with Plastic Free Mersey to protect the future of waterways
With the River Mersey being addressed as a microplastic hotspot in the UK*, Peel NRE has welcomed the opportunity to be involved in the Plastic Free Mersey partnership.
The project, led by environmental charities Thames21 and Mersey Rivers Trust strives to improve the water quality of the River Mersey whilst bringing together various areas of the community to create a framework to ensure a better understanding of how plastics enter the river, types of plastics and quantities.
Since becoming a member of the partnership in January this year, Peel NRE, part of regeneration business Peel L&P, has been working with other community stakeholders and businesses, to help tackle plastic pollution in the River Mersey catchment.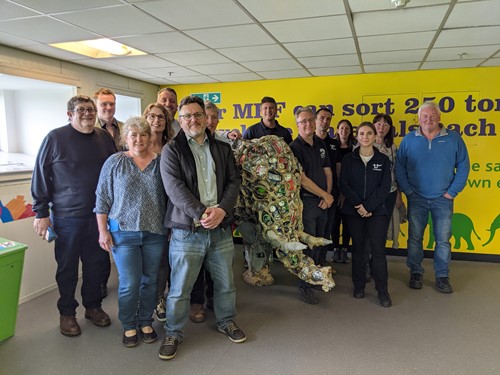 Along with organised litter-picks and conversations between organisations and companies, the project focuses on training citizen science volunteers. This training includes collecting an surveying litter across the river's catchment to better understand how it is entering the water course.
Protecting and making best use of natural resources is a key focus for Peel NRE and it is committed to supporting the duration of the current project until the end of March 2023.
Future steps in the partnership for Peel NRE include organising a volunteering day for employees which will be delivered by the Mersey Rivers Trust and fit with the citizen science data collection.
In addition to this, Peel NRE's Protos development in Cheshire, hopes to connect the occupiers of the planned Plastic Park with the plastic-free river supply chain as management of waste plastic is an integral part of the project. 
If you are interested in volunteering, you could help survey a local riverbank for a couple of hours a week. This could be during your dog walk or weekend stroll and as a result, give back to the community and contribute to the collection of vital data.
For more information on the riverbanks that need volunteers and how to get involved please email john@merseyrivers.org with the subject 'citizen science volunteering'. 
Lois Kay, Sustainability and Engagement Manager at Peel NRE, said: "We're proud to join a great line up of partners on Plastic Free Mersey and hope to help make a real difference in tackling the plastic waste which ends up in the River Mersey catchment. 
"What makes this project really stand out, is that as well as connecting organisations working in the plastics supply chain, the project is also training citizen science volunteers to collect valuable data across the region.
"Many of our own projects sit in the Mersey catchment area and we are pleased to continue working with Mersey Rivers Trust to improve local rivers and waterways and more collaborative working with all partners involved in Plastic Free Mersey."
For more information about Plastic Free Mersey visit Plastic Free Mersey - Plastic litter has no place in the natural environment - Thames21
More about Peel NRE here. 
* Microplastic contamination of river beds significantly reduced by catchment-wide flooding | Nature Geoscience
Photo: Peel NRE's Lois Kay joins partners at the first anniversary event for the partnership in May 2022.