29 Jul 2021
Plans approved for Embassy Village to tackle homelessness
A pioneering initiative to create a new community for the city's homeless and vulnerable men has been given the green light by Manchester City Council.
Manchester-based charity, Embassy, has joined forces with regeneration business Peel L&P and social impact developer CAPITAL&CENTRIC, as well as a pro bono team across the Manchester business community, to develop up to 40 new permanent homes at the Embassy Village. The project is also supported by the Greater Manchester Mayor's Charity which is helping with fundraising for the project.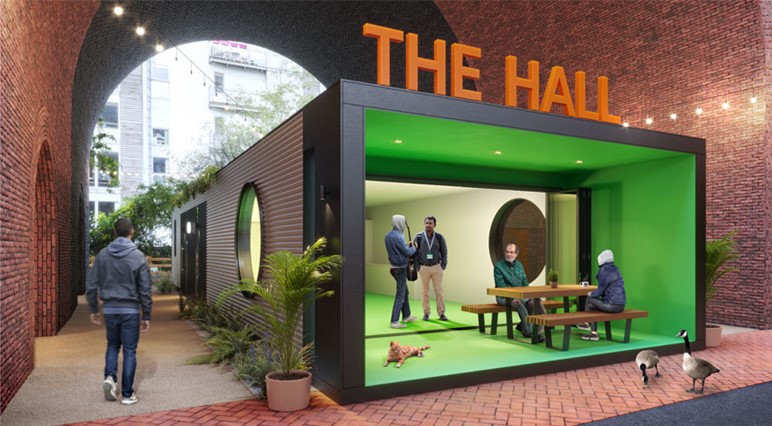 The plans will see a derelict site below the railway arches between the Bridgewater Canal and River Irwell, currently owned by Peel L&P, transformed into a housing-led community with lots of communal and green space, mini allotments to grow vegetables and a multi-use sports area.
Government figures released in February this year found that Manchester had England's second highest number of people sleeping rough. The charity's vision for Embassy Village is to provide a longer term and sustainable way of helping to get the city's most vulnerable men get off the street by putting quality housing and wrap-around support at the heart of the solution.
Residents will have one-to-one training and mentoring to provide the support they need to break the cycle of homelessness and reintegrate back into society. They will be equipped with a range of life skills, including shopping, budgeting and cooking, and courses designed to help unpack past traumas will also be made available.
Embassy also plans to build on its successful track record of work readiness training and helping to find job opportunities for residents, with 15 companies already signed up to partner with the charity on Embassy Village and offer employment.
Sid Williams of Embassy said:
"We're absolutely ecstatic that the plans have been approved and it really couldn't be more timely. Homelessness is at risk of creeping up again with targeted COVID emergency support schemes like Everyone In closing.  Add to that the Government ban on evictions and furlough schemes ending and we could be facing an even bigger problem.
"We need long-term solutions that don't just paper over the cracks. The Embassy Village will help get people back on their feet, find a job and get into normal rental accommodation without the need for benefits but with continued support from our team to help them reintegrate into society. None of this would have been possible without the support of Peel L&P and CAPITAL&CENTRIC, the generosity of 25 amazing Manchester businesses who've given their time for free, and the Greater Manchester Mayor's Charity. I can't thank them all enough."
James Whittaker, Executive Director of Development at Peel L&P said:
"Embassy Village will help people to break the cycle of homelessness and its proximity to Manchester city centre, MediaCityUK at Salford Quays and excellent transport links will open up lots of opportunities for people looking to get their lives back on track.
"It's fantastic news to receive planning approval for a project that will support some of the most vulnerable people and we've been overwhelmed by the generosity of the Manchester business community to help make it happen."
Tim Heatley, co-founder of social impact developer CAPITAL&CENTRIC said:
"This is a trailblazing initiative for our city. Embassy Village will take a holistic approach to battling homelessness, and this begins with the huge first step of giving residents their own front door in a green and design-led community. The collaborative effort to get to this point has been brilliant and we're chuffed that we can move forward with Sid and the Embassy team and focus on getting spades in the ground to bring this inspiring vision to life."
Vanessa Haworth, Head of Greater Manchester Mayor's Charity said:
"We are thrilled to be supporting the creation of Embassy Village by raising funds for the capital build. Stable, supported accommodation such as this is crucial to addressing rough sleeping and homelessness, acting as a stepping stone for people to move onto the next, positive chapter of their lives".
Cllr Lee-Ann Igbon, ward member for Hulme said:
"The supportive homeless accommodation in Hulme comes at a critical time for the city. Offering a wrap around service of health & well being, employability and permanent housing. Councillors will work with Embassy and clients to be part of the community with local residents."
Cllr Annette Wright, ward member for Hulme said:
"After thoroughly considering the proposals and discussing them with the developers and charity concerned, I spoke in support of this application at the planning committee. This scheme will add to the temporary, supportive, accommodation which we already have in the ward and will give the people who live there an opportunity to get support before moving on to permanent accommodation." 
The Embassy charity, which launched in 2019, began by re-purposing a luxury tour bus to provide emergency shelter and support to vulnerable adults. When the bus was forced to close during the COVID-19 pandemic the charity started to develop the idea for the Embassy Village.  The charity will operate as a housing provider rather than a shelter, with residents becoming paying tenants at the village from the first day of their stay. The self-contained site will be managed and monitored 24/7 by Embassy staff and strict no visitor rules will be in place to ensure that the village is safe for residents and surrounding communities.
Following approval of the planning application it is expected that construction will start later this year with the first homes opening in 2022. If you are a company that's interested in sponsoring a home at the village contact sid.williams@embassybus.org. You can also donate to the charity via the website www.embassyvillage.co.uk
Please CLICK HERE to watch the latest video about our Embassy Village initiative.
For more information
Rebecca Eatwell, Font Comms, rebecca@fontcomms.com / 07827 353113
James Ferguson, Font Comms james@fontcomms.com / 07508 010719