11 May 2023
Plans submitted to create new sustainable neighbourhoods in Worsley and Boothstown, Salford including affordable homes provision
Peel L&P's plans for two new sustainable communities have been submitted to Salford City Council for approval following consultation with residents and stakeholders.
One application is for up to 350 homes off Leigh Road, to the east of Boothstown, near Worsley, and adjacent to the RHS Garden Bridgewater.
The high quality, modern and energy efficient homes will sit within a leafy setting of landscaped streets, woodlands, wetlands and plenty of open space for new and existing residents to enjoy.
The second application will be for up to 400 sustainable family homes at Hazelhurst Farm, off Hazelhurst Road in Worsley. The plans include new community parks with areas for play and habitat and wildlife enhancement, improvements to Wardley Woods and a site for a new primary school.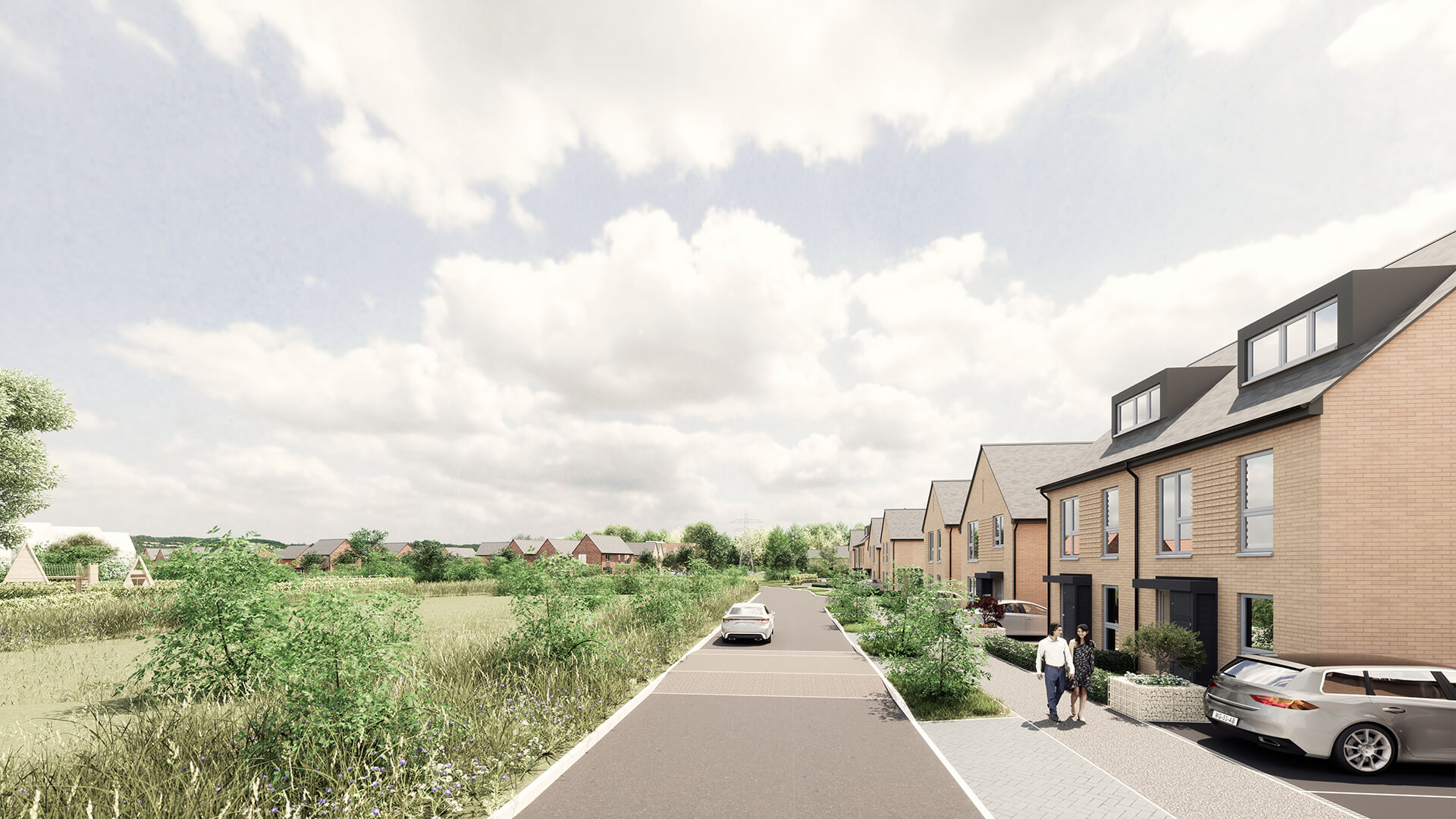 Illustrative CGI of Hazelhurst Farm 
In the two applications, Peel L&P has committed to creating mixed communities which will provide 20% affordable housing on each site as well as providing an additional contribution equivalent to 30% of each site towards further affordable housing across Salford – resulting in 50% affordable housing overall. Both schemes will include homes that are accessible for all, suitable for first-time buyers, up-sizers, down-sizers and for multi-generations to live under one roof.
Northstone, Peel L&P's homebuilding arm, will construct the first phases, being 65 homes at the East of Boothstown site and 157 homes at Hazelhurst Farm, which are being applied for in detail. Taking an innovative approach to community building, Northstone build modern homes with low running costs and prioritise the creation of pedestrian friendly landscaped streets with green open spaces.
Both sites are proposed for allocation for housing in Greater Manchester's Places for Everyone Plan, which sets out how each part of the city region will meet its local need for new homes, jobs and sustainable growth.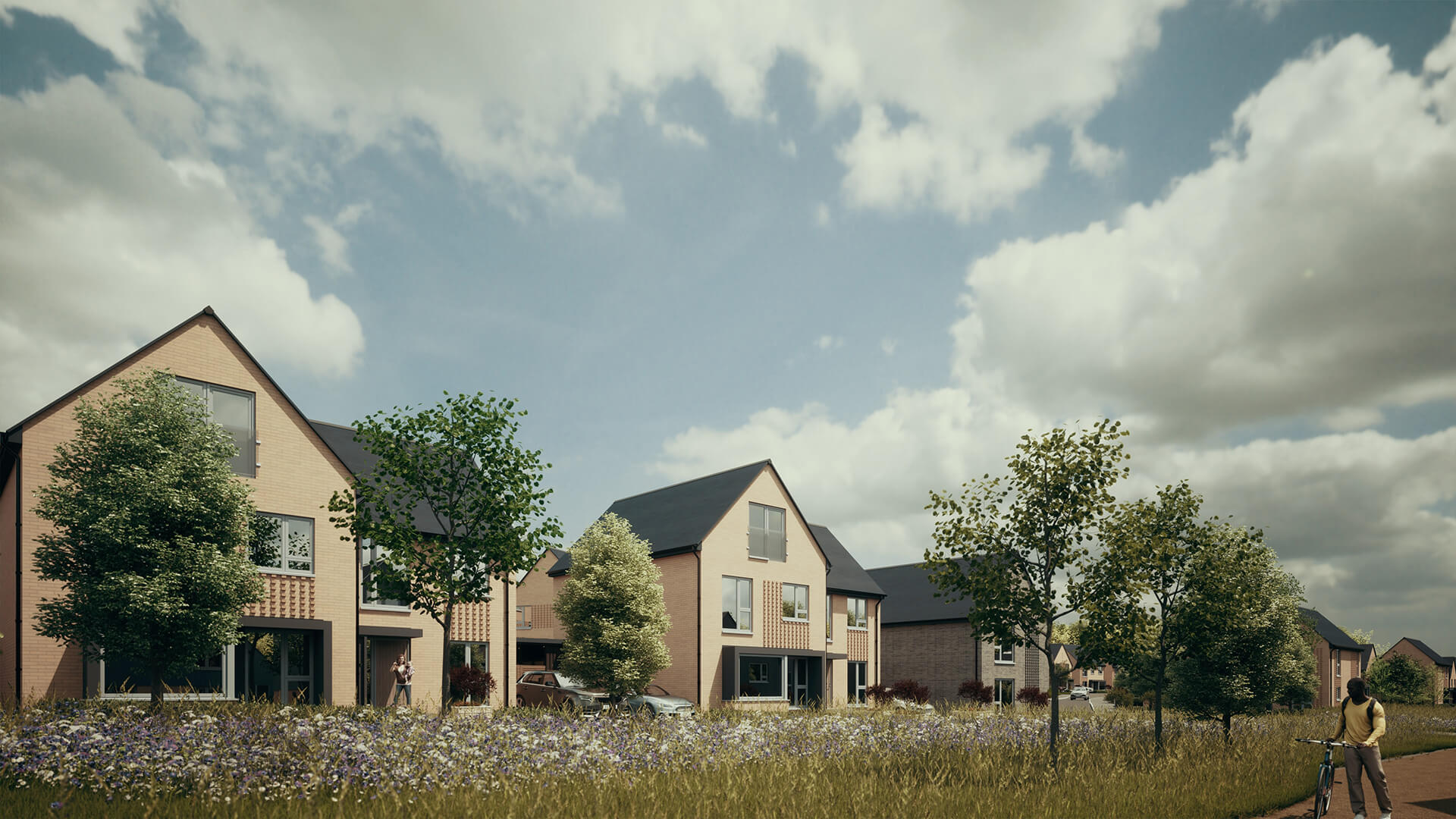 Illustrative CGI of East of Boothstown
The applications follow public consultation held on both schemes. Peel L&P would like to thank the local community and stakeholders for taking part in the community consultation events. The planning applications submitted take account of concerns raised and are supported by full assessments of issues including local transport matters.
Commenting on the plans, Annabel Baker, Peel L&P's Associate Director of Development Planning said:
"We are delighted to be submitting planning applications for these two sites. The East of Boothstown site is a special location, able to provide some of the largest and highest-quality housing in Salford and Greater Manchester. We are excited to be able to bring forward such a strong landscape-led scheme that reflects its proximity to RHS Garden Bridgewater and the Bridgewater Canal and includes homes that are not just attractive but are sustainable to both build and run, with low energy costs. 
"Hazelhurst Farm is an opportunity to provide much needed family housing for Salford, also sustainably built and with low running costs. The scheme will not only benefit new residents but also the existing neighbours through the creation of accessible open spaces and play facilities which will improve habitats and access to Wardley Woods. Land for a new primary school will also be provided, to meet the growing school demand identified by the Council, alongside funding for school places. 
"Our commitment to creating inclusive communities and homes for all sits at the heart of our work at Peel L&P, so we are very proud to be providing the equivalent of 50% affordable housing overall on these two sites and meeting the City Council's requirement in full. This will be through a combination of affordable homes within both developments and through off-site contributions to accelerate affordable housing delivery in other parts of Salford. This will make a significant contribution to addressing the Council's housing need waiting lists and help those seeking assistance to get onto the property ladder.
"A lot of work has been carried out to assess the potential transport and other impacts of these sites, including speaking to local people at our consultation events and we're confident that the applications address the concerns raised.
"We look forward to working with the City Council, stakeholders and local residents as the applications move forward."