12 Jun 2023
Public Consultation on Therme Manchester's New Design
Therme Manchester, the UK's first city-based wellbeing resort, is inviting the public to view and comment on a new design, for its landmark wellbeing resort at TraffordCity, which will be submitted to Trafford Council in the coming weeks.
Therme Manchester at TraffordCity has implemented a series of design improvements, providing better access for the large number of expected visitors. Three entrances will welcome guests arriving from all directions and a new, landscaped green boulevard will receive people travelling by car to Therme Manchester and the nearby Trafford Palazzo. Greater access will also be provided for cyclists and those arriving on foot via public transport. 
The public can view and comment on the plans online ahead of the planning submission that will be submitted in the next few weeks. Subject to approval, the £250m construction is on track to begin later this year with works scheduled to take around 24 months.
The concept for the project has moved from being principally a single building (with zones) and undulating roof line, to a more pavilion-style concept – with separate, connected structures which are immersed and enveloped in a natural landscape. New on-site parking arrangements are also concealed in nature, the roof providing an outdoor customer terrace with views through to the canal. The creation of a new connection to the Bridgewater Canal will enhance the link from the resort to Manchester city centre, allowing better access for pedestrians and cyclists. At the centre of the new design is an urban wellbeing garden, inspired by an English meadow.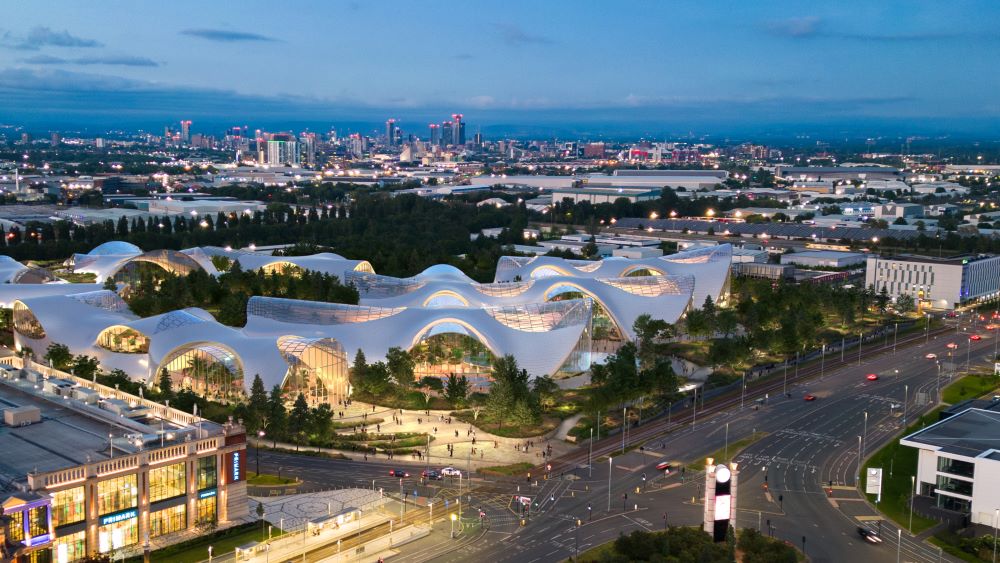 Stelian Iacob, Senior Vice President of Therme Group and CEO of Therme Group UK said: "Therme Manchester will have a transformative impact on the city and individuals. The scale of the project and its architectural character will be interwoven through the landscape into the urban fabric. The link to Bridgewater Canal will create a literal and metaphorical connection to Manchester's past and its centre.
"The Therme experience is designed around physical and mental wellbeing. Human contact with water, steam, fresh air and nature is optimised in an environment that sets itself apart from the pressures of daily metropolitan life."
"We are confident that Therme Manchester will be a catalyst for a wave of local urban development that, over time, will bring new homes and jobs and will create opportunities for the wider area. As such, we hope that our project will act as an urban anchor and a destination that gives a fresh identity to this area of the city."
James Whittaker, Executive Director of Development at Peel L&P said: "We are very proud to be working in partnership with Therme Group to bring their first landmark wellbeing destination to the UK.
"We recently completed the demolition works on our former EventCity site in readiness for the expansive 28-acre Therme Manchester resort and we have seen the excitement and anticipation continue to build in our local community and nationally for our next Therme Manchester milestone at TraffordCity.
"As the UK's foremost retail, leisure and commercial destination, TraffordCity already attracts over 40 million visits a year and we are working closely with Therme Group to ensure that Therme Manchester is accessible to as many people as possible, with strong, sustainable and well-connected links to the city centre, Trafford Palazzo and The Bridgewater Canal."
Find out more about TraffordCity here.