22 Feb 2022
Revised Hulton Park link road in Bolton would ease peak traffic congestion
The improved plans for the ambitious redevelopment of the historic Hulton Park Estate include a different link road to the approved plans, that will further ease road congestion that currently affects the local area at peak times.
A purpose-built 3km road called Hulton Park Avenue would link Syndale Way to the north of, Westhoughton, with North Road on the edge of Atherton. This would provide a new purpose-built highway, pedestrian and cycle route between Atherton and the M61 motorway, bypassing the Chequerbent Roundabout and relieving the bottleneck on Park Road.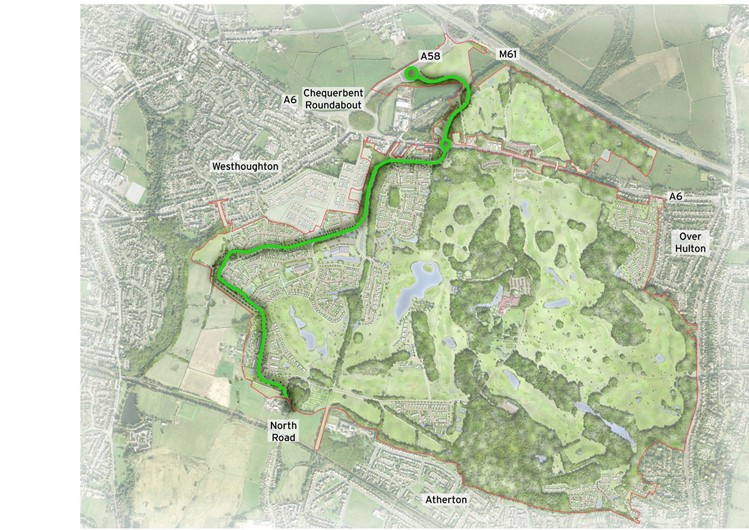 Image: Line highlighted in green shows the proposed new transport route called Park Avenue. 
Bolton Council's Planning Committee will consider developer Peel L&P's revised application for the restoration of Hulton Park on Thursday 24 February.  If taken forward, the plans will unlock unprecedented investment in the area. The revised transport plans represent a major improvement on the existing planning permission, which was granted on the basis of a 1km long link road that connected directly into Chequerbent Roundabout and provided less relief than the now proposed Park Avenue.

It emerged last week that Hulton Park is one of just two English venues shortlisted to host golf's prestigious Ryder Cup competition in 2031.
Alongside the new road, Peel L&P's improved proposals aim to deliver a new international sports destination, along with homes to meet a full range of housing needs, and a host of community and health and wellbeing benefits, opening up green spaces for local residents, creating over 1,000 jobs, and unlocking £1.6 billion in socio-economic benefits over the next 20 years.
If approved, Peel L&P's plans will provide public access to the historic Hulton Park for the first time in its 700-year history, with 15.6km of new and upgraded trails and paths. It will also deliver a new health and wellbeing hub, a leisure facility based on local needs, a new primary school, a village hall and a local village centre, inclusive to all local residents.

New public open spaces, such village greens, community allotments, an events space in the Great Park area and a new Pretoria Memorial Park, will be created.
Richard Knight, Peel L&P's Director of Planning & Strategy, said: "We know that highways issues really matter to residents and that they feel the current network isn't adequate.
"After working with the community, Bolton and Wigan Councils and the highways authorities, we have an improved solution and want to provide clarity on the plans and the wider benefits to the area and the environment.
"The creation of Hulton Park Avenue will help resolve many of the long-standing traffic issues around Chequerbent Roundabout, Park Road and Snydale Way during peak times.
"Both Bolton and Wigan Councils recognise the need for a full Westhoughton bypass connecting to Atherton as part of a wider strategic link from the M61 to the M6, but public funding has not been secured. Our revised plans are the only way to deliver a major part of this route. In doing so we can help solve some longstanding problems whilst at the same time provide capacity for the new development."
During the planning application detailed assessments and modelling have been undertaken and accepted by Bolton Council, National Highways and Transport for Greater Manchester – which accept that Hulton Park Avenue will improve the local traffic situation, with the new development.
With increased emphasis on sustainable living, walking and cycling, Hulton Park has been designed around the 20-minute neighbourhood concept, which provides for daily needs within the local community and is accessible on foot or by bicycle, thereby reducing the need to travel by car, with improved links to Atherton and Hag Fold railway stations and improved local bus services. This improved connectivity will benefit existing communities in Westhoughton, Over Hulton and Atherton as well as new communities at Hulton Park.
More about Hulton Park.