07 Jun 2021
Second tower of iconic X1 Manchester Waters development opens
The second tower of the iconic X1 Manchester Waters apartment development has been officially opened in a special ceremony – welcoming yet more residents to Pomona Island.
X1 Manchester Waters Tower B, part of a wider Peel L&P regeneration project, is welcoming more residents to Pomona Island as the tower is declared complete in a cut the ribbon ceremony.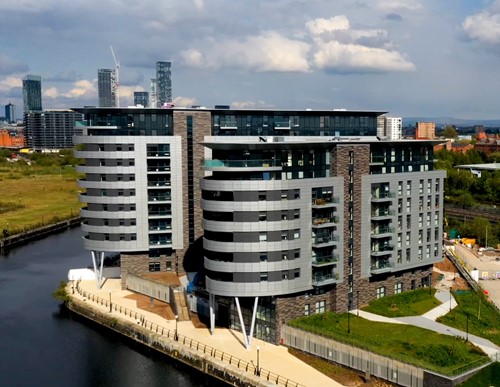 The development launches another 141 apartments to the area - which will soon be joined by a further three waterfront towers - and in total will bring over 700 waterfronts to this idyllic location.  
X1 Manchester Waters is situated on Peel L&P's Manchester Waters scheme, a project to transform 26 acres of brownfield dockland between Manchester's vibrant city centre and the UK's leading creative and digital hub of MediaCity at Salford Quays. The site is well-served by two Metrolink Station at Pomona and Cornbrook only a few minutes from Manchester City Centre.
Melissa Green, Operations & Regional Director at X1 said: "We are pleased to be able to officially open X1 Manchester Waters Tower B in a Covid–secure ceremony.
"X1 Lettings -management agency for the tower – have successfully filled 10% of the building before the doors opened – a testament to the return in rental demand within urban areas such as Pomona. 
"We are delighted to be welcoming the latest residents to the building – which sits next to the fully tenanted X1 Manchester Waters Tower A – and look forward to working with landlords to maximise their return on investment."
This breath-taking development is at the heart of the regeneration of Pomona Island, with a design that perfectly captures the trend of modern waterfront living. 
It is an example of some of the most sophisticated architecture in Manchester, with outdoor landscaped communal areas, bike storage and a residents' on-site gymnasium.
Gareth Jones, Associate Director of Falconer Chester Hall added: "The completion of Block B on X1 Manchester Waters signifies the conclusion of Phase 1 and the beginning of the regeneration on Pomona Island.
It's been hugely significant for us as a practice and the wider design team and an integral project for us as a Manchester studio, being on-board from inception through to completion. We are looking forward to work starting on Phase 2 and the wider masterplan."
The apartments are available in studio, one-, two-, and three-bedroom layouts and are offered furnished and finished to the highest standard.
The regeneration will breathe new life into the former dockland, whilst celebrating its heritage.
X1 Manchester Waters is one of six Peel L&P Strategic Waters initiatives across the UK to transform former industrial sites at waterfront locations into desirable destinations to help attract further investment, boost local economies and create more jobs and much-needed housing.
James Whittaker, Executive Director for Development at Peel L&P said: "X1 is a key delivery partner with this being the eigth building completed on Peel L&P sites. In our opinion this building is X1's best scheme that will help transform the site and help the masterplan for Manchester Waters become a reality. It's great to see more homes complete taking us closer to creating a new mixed-use sustainable community that meets local housing needs.
"Manchester Waters and its proximity to Manchester city centre at MediaCity also means it is well placed to attract further investment to boost the local economy and bring more jobs. We're also creating extensive public realm along the waterfront to help connect the Manchester City Centre to Salford Quays."
As one of the last remaining large-scale developments close to the city centre, Peel L&P's masterplan is proving to be one of the most desirable neighbourhoods in the city.
Mark Connor, Chief Executive, Vermont, added: "Vermont are proud to have been involved with the X1 Manchester Waters project, and to have delivered a fantastic building to X1 and their residents ahead of programme.
"The successful completion of Tower B provides high quality residential accommodation and an extensive public realm which will provide an exceptional landscaped outdoor space with access for both the residents and the wider public. It is a credit to all involved in the development process, that has seen the previously under-utilized space transformed into a place for people to enjoy.
"With the first two buildings now complete Vermont are looking forward to progressing the remaining phases of the development, which we believe will provide a catalyst for the transformation of the wider Pomona Strand area."