27 Jul 2023
The Great Wall of Glasgow - Glasgow's longest outdoor mural to be created at Glasgow Waters
Family-run regeneration business Peel L&P has partnered up with Scotland-based artist collective - Healy Arts, to create an impactful piece of community art which is set to become the longest outdoor mural in Glasgow.
Named 'Dancing Wave', the piece, which is being installed within Glasgow Waters, will run alongside The River Clyde, starting at The Clydeside Community Garden and finish at Castlebank Street, next to the multi-award-winning Riverside Museum.
Stretching nearly 1,000 metres, 'Dancing Wave' will celebrate The River Clyde whilst combining Glasgow's rich history of craft heritage with 21st Century technology and design.
As Scotland's most famous and important river, The River Clyde enabled Glasgow to become a major industrial city and at one point the world's largest shipbuilding centre. Following years of decline in the area, The Peel Group has invested £874 million into major projects across Scotland, creating 5,540 jobs and 3,460 homes over the past decade, with Glasgow Waters becoming Peel L&P's largest regeneration project in Scotland.
With the vision to become a major retail, leisure and tourism destination on the Clyde, Glasgow Waters will complement, support and revive the surrounding area. The enormous new mural will culturally connect the different neighbourhoods and future developments within Glasgow Waters, including Yorkhill Quay, Beith Street and the site of the future Therme Scotland.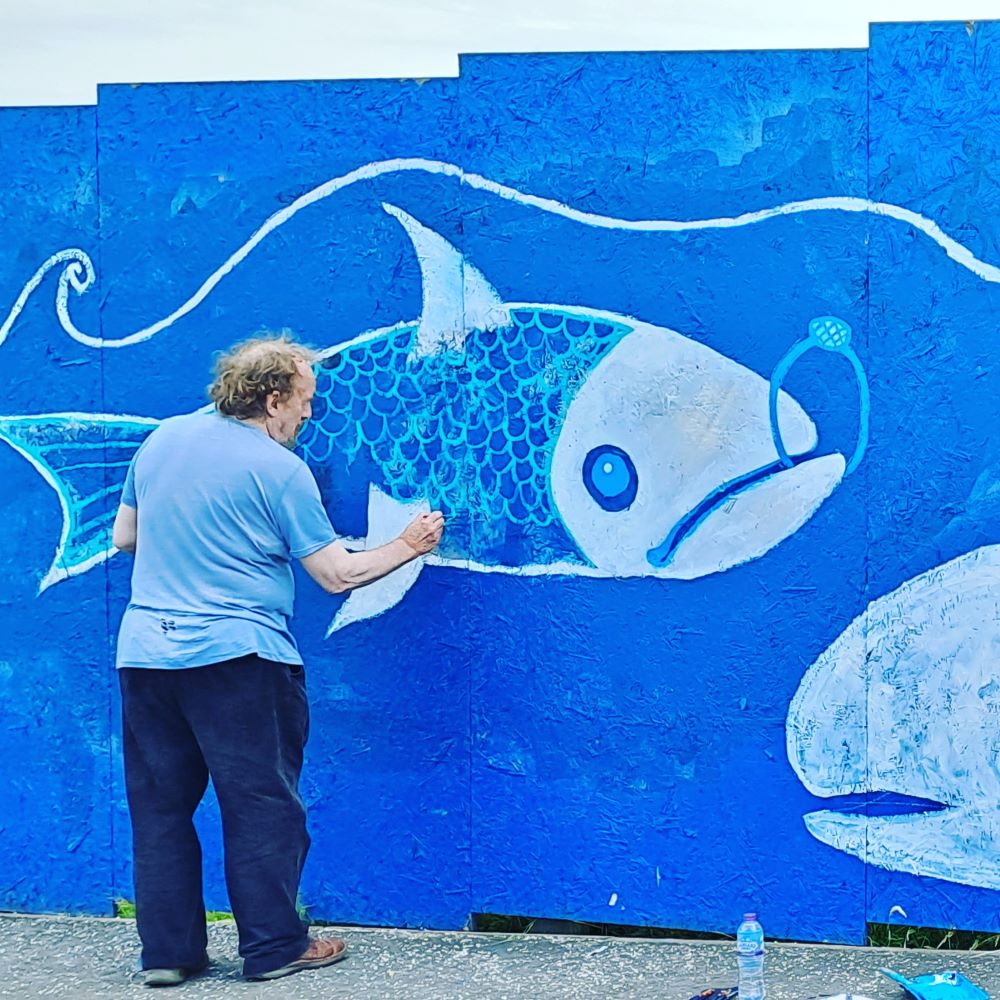 Work has started to prepare the boards ahead of the mural being painted on the 19th August
Brian Lavalette, Property Director for Scotland at Peel L&P, said: "We are very excited for Glasgow Waters to become the home of Glasgow's longest outdoor mural.
"Working in partnership with local community groups is important to us and we are proud to be working with Healy Arts to deliver this piece which celebrates how significant The River Clyde is to our community and our neighbourhood. 'Dancing Wave' will be an excellent and impactful cultural piece of art and we look forward to visitors discovering more about the future of Glasgow Waters whilst enjoying the mural."
The enormous mural will connect up the neighbourhoods within Glasgow Waters and stretch nearly 1,000 metres
Whilst researching and designing plans for the mural, Healy Arts worked with local groups in Partick, Thornwood and Glasgow Waters to run workshops and experiment with traditional crafts such as glassmaking, mosaic, woodworking and metal forming within contemporary contexts, combining these crafts with images created with Artificial Intelligence (AI) software and Augmented Reality (AR).
Work has already started to prepare the structure ahead of the mural painting and the community are being encouraged to get involved too.
The painting of 'Dancing Wave' will officially launch at the 'Wee Harbour Fest' community event on Saturday 19th August 1pm - 4pm at Meadowside Crescent Quay at Glasgow Waters. There will be plenty of activities to enjoy at the festival alongside the mural painting, including live music, lavender plug planting, hand drumming, circus skills, craft tables, kids creative play, kite flying and facepainting, in addition to chill out zones and plenty of local refreshments.
Visitors of the Wee Harbour Fest who want to take part in painting a panel of Glasgow's longest outdoor mural can either pre-register or they can pick up a paintbrush on the day and paint a section of 'Dancing Wave'. Families, students and individuals will all be welcome to get involved and all materials will be provided.
Siobhan Healy, Founder of Healy Arts who is leading on 'Dancing Wave' added: "We at Healy Arts are delighted to be working with our community to create this ambitious artwork beside the River Clyde. We have engaged with The Riverside Museum, Glasgow University and the Annexe Healthy Living Centre to research and develop the concept and to create the artwork."
The project will be documented in an accompanying publication available in book form and online as a permanent record of the project.
To pre-register to take part in painting a section of 'Dancing Wave', please use the Eventbrite Page which can be found here.
Find out more about Glasgow Waters here.
The project is funded by Scottish Government and Glasgow City Council as part of the Council's River Activation Programme, aimed at supporting community-led improvement and activation of vacant spaces along the River Corridor.