03 Jul 2023
Therme Manchester's new design submitted for approval in TraffordCity
Following a public consultation, Therme Manchester, the UK's first city-based wellbeing resort, located in TraffordCity, has submitted a refined new design for approval, to Trafford Council.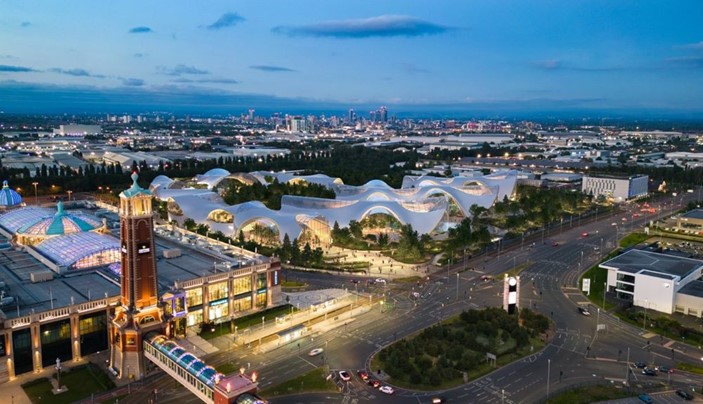 The concept for the project has transitioned, from primarily a single building with zones and an undulating roofline, to a flowing pavilion-style concept. This new design features separate connected structures that are immersed and enveloped in a natural landscape, with a revised location for car parking and enhanced connectivity with public transport.
The public consultation has shown overwhelming support with 91% of the responses towards the new design agreeing that it is even more impressive than the original, with the carbon footprint being one of the most important considerations. Therme Group have given their support for a district heating network that Peel L&P are promoting, to make rapid progress in the transition to low carbon heating.
Therme Manchester has enlisted the services of Fletcher Priest - a London-based architectural and design practice, and one of the largest in the United Kingdom - as Collaborating Architects. They are providing support to Therme ARC, Therme Group's in-house architecture practice and design company, with a series of design innovations. Additionally, the group has engaged GROSS.MAX., an Edinburgh-based firm responsible for the landscape design. GROSS.MAX. has also assisted Therme ARC in developing the concept within the broader urban landscape.
The new design includes three entrances to welcome guests arriving from all directions. Enhanced access will also be provided for cyclists and pedestrians using public transport. A newly landscaped green boulevard will cater to individuals arriving by car to Therme Manchester and the nearby Trafford Palazzo.
The new on-site parking arrangements are seamlessly integrated into the natural environment, with the roof serving as an outdoor customer terrace that offers views of the Bridgewater Canal. A decision has been made to commit to heat pumps and to incorporate photovoltaics above the car park and on the roof of the logistics hub.
The creation of a new connection to the Bridgewater Canal will improve the link between the resort and Manchester city centre, delivering increased access for pedestrians and cyclists. At the heart of the new design lies an urban wellbeing garden, inspired by an English meadow.
Therme Group have taken on board the comments from the public consultation and will continue to listen and engage with community groups, in the Therme Manchester post-planning design work, to ensure the development delivers optimum access to all.
Pending planning approval, the £250 million construction is set to commence later this year, with an estimated duration of 24 months for completion.