07 Mar 2023
Therme Manchester wellbeing resort development at TraffordCity is underway
New footage shows the completed demolition of a former events venue to make way for Therme Manchester – a new c.£250m development at TraffordCity and the UK's first city-based wellbeing resort.
Spanning 28-acres opposite Trafford Palazzo and The Trafford Centre, Therme Manchester at TraffordCity, will be a beacon for the North West of England with attractions for all ages and budgets including Greater Manchester's first all-season urban beach, a next generation indoor waterpark and thermal pools and spas.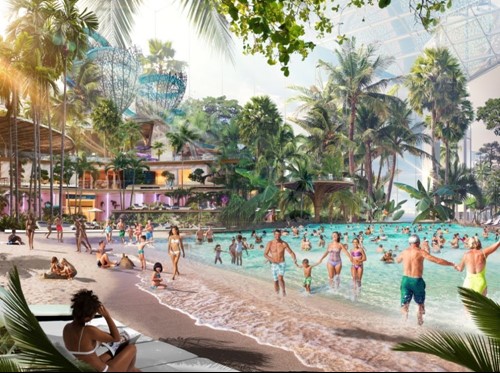 Regeneration business Peel L&P has now finished clearing the 28,000 sq metre former EventCity conference and exhibition centre at its TraffordCity site on Barton Dock Road in preparation for the flagship development. Watch the demolition video captured by Peel L&P below:
Therme Manchester is being built by global developer and operator of state-of-the-art wellbeing destinations Therme Group which has seen phenomenal success with similar resorts across Europe over the past 20 years.
The development's economic impact is estimated to be worth £4.5bn to the region including the creation of 1,200 jobs and with a strong focus on health, wellbeing and sustainability, Therme Manchester is forecast to save over 1 million hospital admission days per year.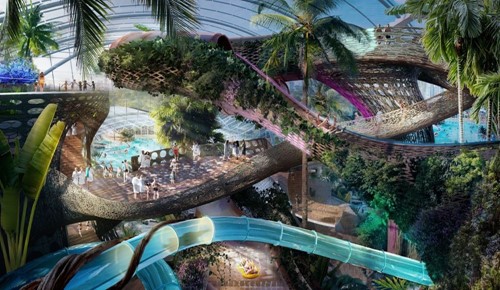 There are also plans for an education centre at Therme Manchester for schools and community groups to learn about nature and sustainability. Plus, access to local cycleways and paths will be improved, including to the neighbouring Bridgewater Canal, plus Metrolink now stops close to the site of Therme Manchester. 
Therme are committed to maximising these elements as they look to encourage both active and sustainable connectivity with the city and nearby neighbourhoods to encourage the concept of Wellbeing Cities.
James Whittaker, Peel L&P's Executive Director of Development said: "Therme Manchester is a landmark development for the North and something the UK has never seen before. 
"It's incredibly exciting to see the land being prepared to welcome the resort to TraffordCity and we're proud to help bring such an amazing attraction to the North West which we know will be enjoyed by so many people across the country whether it's for a fun family day out, relaxation or educational trips." 
Richard Land, Chief Development Officer, Therme Group UK said: "We are delighted to see the demolition works complete; it is fantastic to see the site cleared and showing its amazing potential to be a global wellbeing destination. It defines a key milestone for us as we continue our journey to bring Therme to Manchester, a perfect location for our first facility in the UK."