17 Oct 2022
Trafford Palazzo releases Half-Term events schedule
Retail and leisure destination Trafford Palazzo at TraffordCity has announced a jam-packed events schedule as part of a series termed, 'Half-Term Hang Out'.
An array of activities, designed for all ages, will launch from 17th October, and run until 30th October.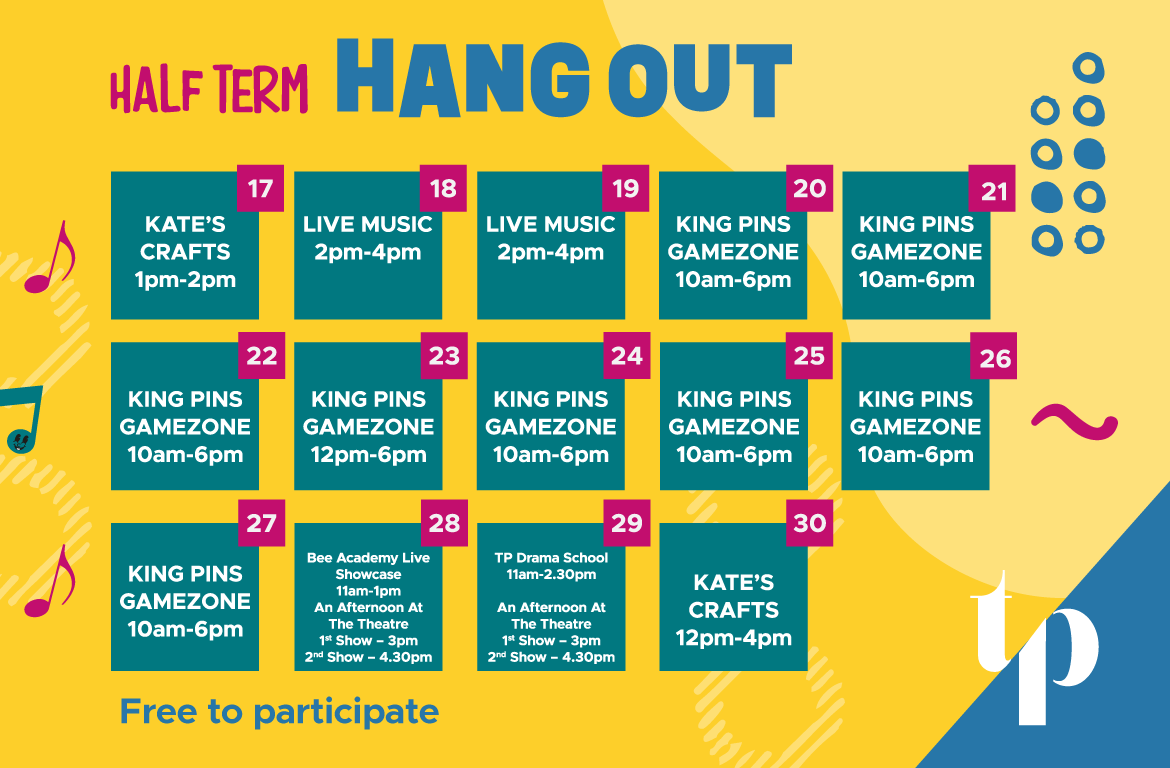 Following the announcement earlier this year that they have signed-up to take space at Trafford Palazzo, state of the art bowling alley, 'King Pins' will open a pop-up experience showcasing what customers can expect when the new attraction opens its doors in Summer 2023. The brand will take over the mall space with a selection of games including shuffleboard, bowling, air hockey, ice free curling, basketball nets, providing a flavour of what is to come at their flagship venue. All games will be free to play.
Through the events and activations at Trafford Palazzo, the aim is not only to supply some innovative productions but also to provide opportunities to nurture and showcase the talent of local communities. A theatre production named, 'An afternoon at the Theatre' will take over Trafford Palazzo on 28th and 29th October with two evenings celebrating musical theatre with live music showcasing a variety of classic songs from Dreamgirls right through to Chicago. A selection of Disney songs will also be included in the set list including several songs from hit movies Frozen and The Lion King.
Adding to the showcase of local talent, drama school, Bee Academy, will be showcasing their upcoming performances on Friday 28th encouraging children to return on Saturday 29th for a free interactive workshop where they can try their hand at acting. Classes will include basic acting skills as well as a series of dance workshops. A variety of music artists will also be performing on-site on both Tuesday 18th and Wednesday 19th between 2-4pm.
Trafford Palazzo favourite, Kate's Crafts will also be joining the fold with an array of craft workshops on 17th October between 12-2pm and 30th October between 12-4pm. 
Several local food vendors will also be on site throughout the half term period providing a range of drinks and sweet treats. Manchester based, Gin Gin Geroo will be serving selection of alcoholic and non-alcoholic options including gin and rum cocktails for the audience attending the 'A Night at the Theatre' to enjoy throughout the performances.
Local favourites Project D will also be bringing a Halloween themed donut tuktuk to Trafford Palazzo providing sweet treats for the family to enjoy from Wednesday 26th to Saturday 29th October.
All events will be free of charge throughout the October half term period.
Kate Holland, Senior Marketing Business Partner said: "We are really looking forward to welcoming families from across the region to Trafford Palazzo this October half term for a specially curated events schedule. We want to make Trafford Palazzo a space where families can come and keep the children entertained with a schedule that offers something for everyone.
Our previous half term and summer schedules have been extremely popular with families, and we are thrilled to work with some amazing local independent businesses.
Trafford Palazzo at TraffordCity was re-launched under its new name in November 2021 and welcomes over five million visitors a year. The multi-faceted shopping and leisure centre is home to LEGOLAND® Discovery Centre, SEA LIFE, recently launched Italian restaurant Matterello and Primark.
Work has also started for the first Nerf AX venue alongside King Pins with a planned opening for early summer 2023.
For the full half term events schedule please visit Trafford Palazzo's Half Term Hang Out - TraffordCity
To find out more about TraffordCity visit Retail and Leisure - TraffordCity (peellandp.co.uk)