14 Dec 2022
TraffordCity 2022 - A year in review, upcoming hot projects to watch in 2023 and exclusive, first-look fly through video
TraffordCity is the foremost retail and leisure destination with 44 million visits a year, employing over 17,500. With a further £2.6 billion earmarked for further investment over the next 20 years, there's an abundance of exciting projects in the pipeline including the creation of a new £250 million health and wellbeing resort.
Trafford Waters is the brand-new sustainable destination Peel L&P are creating within TraffordCity with a range of homes to suit different needs, including affordable housing, new retail and office opportunities, hotels, community facilities including a brand-new two form entry primary school in addition to large swathes of green space and public realm including a new 20-acre public park.
The scheme will take around 20 years to complete and transform the brownfield site creating 5,000 jobs.
An exclusive first-look fly-through video of TraffordCity can be found here.
Housing and planning updates and projects
Care home plans submitted for Trafford Waters 
This month, plans were submitted by specialist healthcare provider Montpelier Estates in conjunction with Peel L&P, for a new care facility in TraffordCity to support older people and those living with dementia.  The proposals for an 82-bed, three storey care home at Peel L&P's Trafford Waters development within TraffordCity, would also provide specialist dementia care for residents as well as providing a range of facilities including a bistro café, hair salon, cinema, rooftop garden and space for community events, relaxation and exercise.
Read more about this much-needed facility and meaningful space here.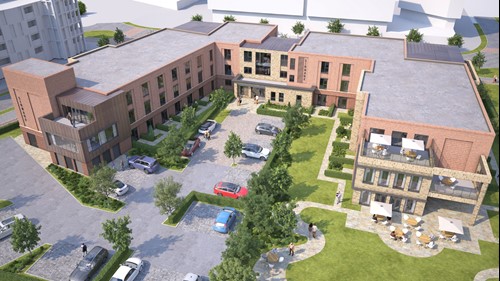 Work starts to enable first 350 new homes and public realm at Trafford Waters

 
A grant of £4.08m from Homes England's Housing Infrastructure Fund, match-funded by Peel L&P has helped to unlock work on the first 350 mixed-tenure homes that will deliver new roads, public realm and services for the development. The phase one infrastructure works will include tree-lined footpaths and cycleways and the first acre of public green space at the development. It will connect Trafford Waters via Trafford Way and Redclyffe Road.
Learn more about Trafford Waters here. 
Plans unveiled for affordable homes at Trafford Waters

 
This October, Trafford Housing Trust (THT), part of L&Q, submitted proposals for 83 homes on Trafford Waters within TraffordCity. The development intends to deliver one and two-bedroom affordable homes for Shared Ownership, subject to approval from Homes England for grant funding.
To find out more about our plans visit here. 
Retail and leisure updates and projects
Fives Soccer Centres launch next-generation football centre at TraffordCity for Manchester community

 
Equipped with state-of-the-art, industry-leading technology and world class facilities, the eight larger than standard five a side football pitches are the first in the UK to be approved by the FA.  Each pitch also offers individual player tracking, allowing everyone to analyse and log their performance stats after a game, as well as video match replays and highlights.
Read more about Fives Soccer Centre here.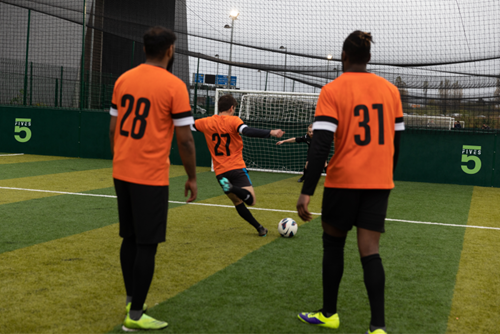 Trafford Palazzo celebrated its one-year anniversary

 
In June 2022, Trafford Palazzo celebrated one year since Peel L&P's acquisition of the former Barton Square site. The team has introduced a new placemaking and lettings strategy which has already started attracting several leading brands to Trafford Palazzo. The venue has also become synonymous with creating a programme of community events and activations for all ages, from a month-long wellness activation, a half term extravaganza, a 4-week Summer Fest and more recently the festive, 'Christmas on TP Street'. Through events, activations, international brands, and its spectacular setting, Trafford Palazzo has become a must-see destination in Greater Manchester, generating an average of 100,000 visitors a week.
To find out more about one year of Trafford Palazzo visit here.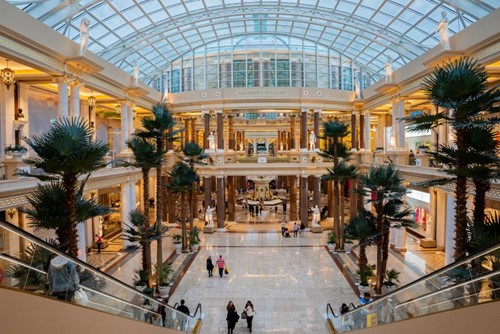 NERF Action Xperience (NAX) indoor entertainment centre set to open in Peel L&P's Trafford Palazzo

 
This year, Manchester-based leisure group Rocafella Leisure successfully secured the rights with global branded entertainment company HASBRO to bring the NERF Action Xperience to the UK. The very first of these family entertainment centres will open in a purpose built, 35,000 sq ft space in Trafford Palazzo in Summer 2023. Local F&B establishment Archie's will also be opening up at Trafford Palazzo within the NAX centre.
Discover more about NERF here.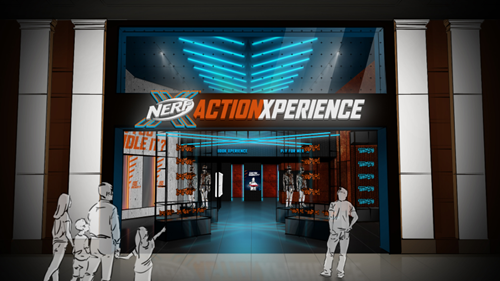 Matterello launches at Trafford Palazzo

 
The high-end, independent Italian food and beverage provider, Matterello, opened its doors to customers in TraffordCity early this summer. Serving up authentic southern Italian cuisine, the 2,454 sq ft unit within Trafford Palazzo also features their very own 'Instagramable' gelato bar.
Find out more about Materello here. 
Tim Hortons opens its largest drive-thru at TraffordCity

 
In August, Tim Hortons®, the iconic Canadian restaurant brand, opened its largest drive-thru restaurant in the UK at TraffordCity. The convenient drive-thru located next to Trafford Palazzo has quickly established itself as a "must visit" stop on any trip to TraffordCity. 
Discover more about Tim Hortons at TraffordCity here. 
What's next for TraffordCity? Development updates and projects
Therme Manchester Wellbeing Resort
In April, updated designs for Therme Manchester Wellbeing Resort were revealed and work started in September to clear the way for UK's first city-based wellbeing resort. Peel L&P submitted plans to Trafford Council to demolish the 28,000 square metre former EventCity conference and exhibition space on Barton Dock Road to make way for the c.£250m flagship Therme Manchester development. Demolition is expected to be completed by Christmas.
The 28-acre resort opposite Trafford Palazzo which will be delivered by Therme Group working in partnership with Peel L&P, will be a 'next generation' waterpark and include thermal bathing and a wellbeing spa, in addition to immersive digital art, an on-site urban farm and botanical gardens. This combination of features highlights Therme's aim to be far more than just a waterpark and spa, but to create an integrated experience to benefit physical and mental health. It is estimated this development will create in excess of 500 permanent jobs and as quoted by the MEN 'it is set to be a game changer for not only Manchester tourism scene, but for the entire UK'
You can find out more about this transformational project here.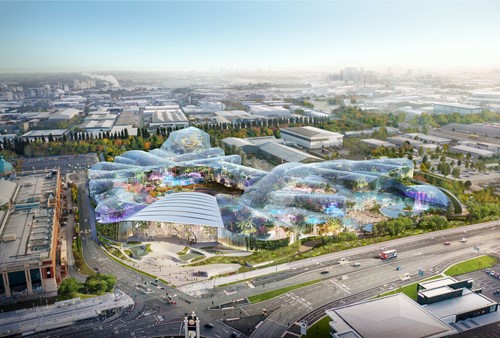 ​
Modern Surf Manchester still on track to come to TraffordCity
TraffordCity is also set to become home to first surfing lagoon in the region.  The £60million scheme will be located at Peel L&P's 12-acre brownfield site off Barton Dock Road and would be the first inland surfing faciality to open in the region by 2025 and create a further 100 jobs in the area.
These proposals will firmly establish TraffordCity as a strategically significant focus for economic growth within Greater Manchester.  With employment expected to rise to 37,7000, and a further increase in 2.5 million visitor a year over the next 5 years, TraffordCity will make a significant impact to the Greater Manchester Economy and Tourism for the region.