10 Nov 2021
TraffordCity estimated to boost the economy by £808 million each year
An independent study analysing the economic impact of TraffordCity, has revealed the 500-acre business, retail and leisure destination boosts the Greater Manchester economy by a gross annual GVA of £808 million each year. 
Commissioned by Peel L&P, the first economic study of its kind for TraffordCity, was carried out by AMION Consulting. Home to over 300 retail and leisure outlets as well as a large number of commercial businesses, the report calculates that the total amount of business rates raised in TraffordCity is worth over £58 million each year to the local economy.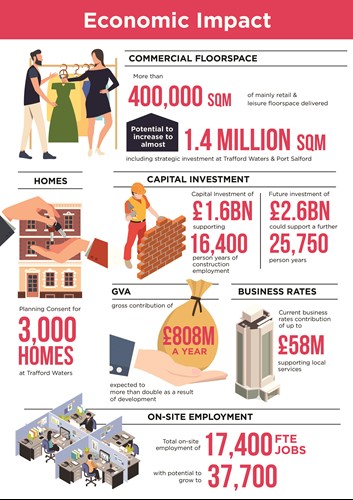 TraffordCity is a vibrant destination within the Manchester City Region attracting more than 40 million visits each year. It already comprises one of the most important clusters of retail and leisure activities within the North of England, including The Trafford Centre, Chill Factore and the AJ Bell Stadium, which lies within the Salford City Gateway. 
The Facts  
To date, Peel L&P has invested £1.6 billion into TraffordCity which started with the development of The Trafford Centre in 1998.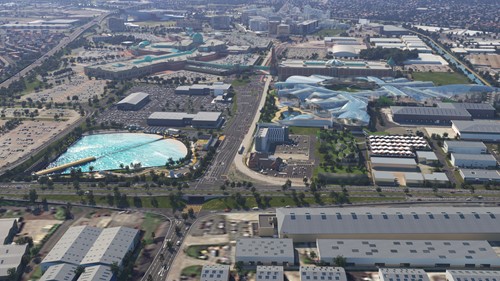 TraffordCity CGI with future development plans
The £350 million Trafford Park Metrolink line, which opened in 2020, now has six new tram stops, offering sustainable transport links between Manchester Waters, MediaCityUK and TraffordCity as well as some of Greater Manchester's busiest visitor destinations. 
With a further £2.6 billion earmarked for investment over the next 15 years, there's an abundance of exciting projects in the pipeline including the creation of a new £250 million health and wellbeing resort, Therme Manchester. Further pipeline projects include the £60 million surf park, Modern Surf plus eight new all-weather football pitches. Both Therme Manchester and Modern Surf have received planning approval.   
Peel L&P is launching plans to create a mixed-use community in the area named Trafford Waters. Set to bring 3,000 homes, local amenities and 80,000 sq m of office space as well as 6,700 sq m of commercial floorspace, plus a 300-bedroom hotel, a two-form entry primary school and a 150-bed/unit care home. The scheme has the potential to generate more than 5,000 jobs. Trafford Waters will transform the currently derelict land on the banks of the Manchester Ship Canal.  
Building on the concept of a City within a City, investment plans led by Peel L&P will see the further expansion of the TraffordCity destination, alongside integrated development proposals for Trafford Waters and Port Salford.  
Port Salford is proposed to be the UK's first tri-modal inland waterway port which will be served by ship, rail and road. This ground-breaking development is to include an inland port, rail link, container terminal facility and 1.5m sq ft of logistics floor space. It will support 16 trains a day and has the capacity to support full European 775m-long trains. It will have good rail access to the Port of Liverpool and to the West Coast Main Line north and south.   
 These proposals will firmly establish TraffordCity as a strategically significant focus for economic growth within Greater Manchester and the Northern Powerhouse. 
With employment expected to rise from 17,400 to 37,700 over the 15-year development period, it is also estimated throughout the future construction process, 1,600 jobs will be created. 
 James Whittaker, Peel L&P's Executive Director of Development said:
 "Since the construction of The Trafford Centre over 20 years ago, TraffordCity, (which was officially launched as a destination with its own unique brand in 2015) has evolved to become one of the most experiential retail and leisure destinations in the UK.  
 "This is the first time its economic impact has been assessed and it's fantastic to see the future commercial, leisure and residential development will act as a catalyst for further social and economic growth in the immediate area and beyond."  
The report found alongside the employment and GVA effects, the investment will bring a range of wider benefits, in particular it will create a major hub for growth cementing TraffordCity's status as an important visitor destination and strengthening the Greater Manchester economy. Opportunities will also be created for local communities, support local services and promote enhanced levels of environmental sustainability in line with Peel L&P's sustainability values and commitments.  
James concludes: "It's a powerful proposition and will play a significant part in contributing to the UK's Covid-19 recovery as well as the Northern Powerhouse and the levelling up of the north-south divide." 
Source of all figures: TraffordCity economic impact survey by AMION November 2021.