02 Aug 2021
Wirral Waters celebrates topping out at new Hythe business hub
Hythe, Peel L&P's Grade A business hub at Wirral Waters, has reached a special milestone in its construction.
Guests including Wirral Council, the Liverpool City Region Combined Authority, and Merseyside Pension Fund were invited to celebrate the 'topping out' of what will be the first speculative office development in Birkenhead for over a decade.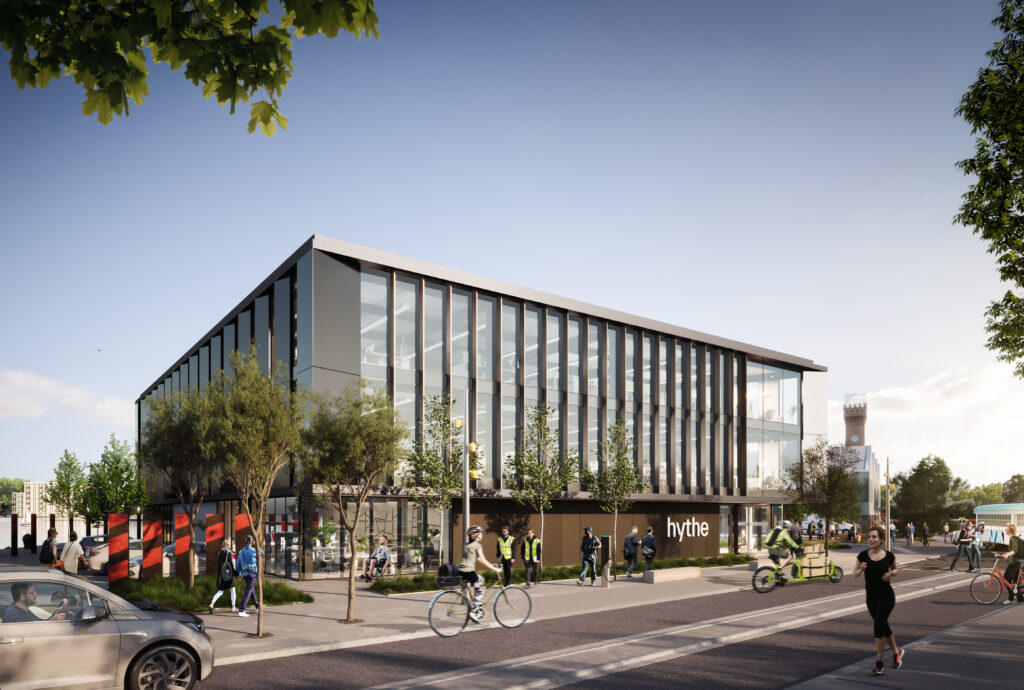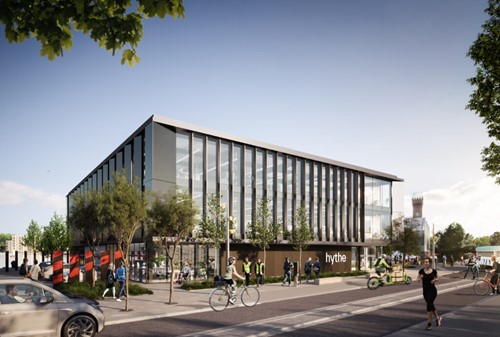 The ceremony, which took place today (Monday 2nd August), marks reaching the highest point in the construction of the 'next generation' office building, part of the Four Bridges neighbourhood at Wirral Waters, which now stands at 15.3m.
Hythe was designed by award winning architects, Glenn Howells, to maximise on stunning panoramic views, showcasing both the Wirral Waters waterfront and Liverpool City skyline. It is being constructed by GMI Construction with completion expected in late 2021.
It offers over 25,000 sq ft over three floors of high quality, flexible office space for entrepreneurs and local businesses. It has been designed to maximise the health and wellbeing of workers and sets high standards in sustainability with a BREEAM-Excellent rating, which will place it in the top 10% of all buildings for its green credentials. Hythe has also been designed to accommodate the latest innovations in digital connectivity.
Attendees at the topping out ceremony included Metro Mayor of the Liverpool City Region, Steve Rotheram; Deputy Leader of Wirral Council, Cllr Paul Stuart; Chair of the Economy, Regeneration and Development Committee, Cllr Tony Jones; and Cllr Pat Cleary, Chair of Merseyside Pension Fund. They joined Richard Mawdsley, Peel L&P's Director of Development for Wirral Waters, to celebrate the important milestone.
Lettings are now available for businesses wanting to relocate to Hythe. Business should contact lettings agents Matthews & Goodman and Avison Young for further details.
Hythe has been funded by Peel L&P, the Liverpool City Region Combined Authority and the Merseyside Pension Fund brokered by CBRE Capital Advisors. Part of the Combined Authority funding is from the Local Growth Fund, which is awarded to the Liverpool City Region Local Enterprise Partnership (LEP) and invested through the Combined Authority's Strategic Investment Fund.
Wirral Council has also played a pivotal role to support Peel L&P's team in delivering the project, emphasising the importance of collaborative working to ensure that the vision for Wirral Waters is delivered.
Metro Mayor of the Liverpool City Region, Steve Rotheram, said: "We've invested £3m in the Hythe site to ensure that we're able to keep offering outstanding facilities and as a catalyst to attract new businesses and jobs to the area. It's great to see that investment starting to physically take shape.
"Not only will these new facilities offer some of the most advanced office space in the area, they will also be some of the greenest and most sustainable. I'm sure they'll help make our region a more attractive place for jobs and investment."
Councillor Janette Williamson, Leader of Wirral Council commented: "Hythe combines first class office space with exceptional views, which in turn will attract new businesses and lead to job opportunities for people in Wirral. This development is a critical part of transforming this area into a thriving neighbourhood which will welcome people to live, work and learn."
Councillor Tony Jones, Chair of Wirral Council's Economic, Regeneration and Development Committee added: "Today is a milestone moment for Wirral Waters and seeing Peel L&P's vision for the area becoming a reality. The change is apparent and encouraging to see, from the progress at Hythe and the transformation of Tower Road to the new homes going up at East Float."
Cllr Pat Cleary, Chair of Merseyside Pension Fund, said: "Merseyside Pension Fund is keen to support local investments which benefit our City Region and provide secure returns that help sustain future pension payments. It's therefore encouraging to see first-hand the progress being made on the Hythe development. I'm sure all our members will be pleased to see yet another example of their pension savings being used to support local investment and employment."
Richard Mawdsley, Director of Development for Wirral Waters at Peel L&P, said: "It's exciting to mark this important milestone for Hythe. With completion on track for late 2021, Wirral Waters is now firmly in delivery phase with many more key milestones to follow in the coming months. It's been great to welcome all key partners to the top of the building this morning, not only to celebrate the progress of the build and the wider Four Bridges neighbourhood, but to be the first to enjoy the stunning views that span the Wirral Waters waterfront on one side, and the Liverpool city skyline on the other.
Collaboration is paramount at Wirral Waters, and GMI Construction are doing a fantastic job, also partnering with Wirral Met College to engage with students and support the local workforce of the future.
Marc Banks, Divisional Managing Director at GMI Construction, said: "It is brilliant to see Hythe reach this major milestone. As a key scheme within the overall Wirral Waters development, we are incredibly proud to say that the building is now 'topping out'. The project team have done a fantastic job so far, and GMI are very excited to complete this project in the coming months."